Late on Tuesday night, I received an email from my favorite go-to place for exercise videos, Collage Video, announcing they were closing down and were putting their entire inventory on sale, with all sales final. Like most of their other fans, I am deeply sorry to see them go.
Though they were unable to compete on rock-bottom pricing against the big general online businesses who also sell exercise videos, they excelled in customer service and information. For instance, every video they sold had a brief description written by one of their own staff (rather than by the video manufacturer), letting you know what it was like, what kind of background music it had, how chatty the instructor was, and what kind of moves it had. The descriptions also included an information bar with information on the difficulty, emphasis, and length of each DVD's workouts.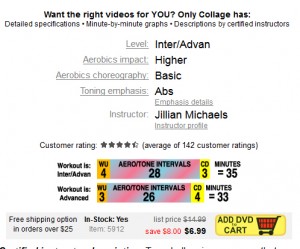 It was really quite addictive. After doing a workout, especially if it was new to me, I could go to Collage and see how hard it was to give myself a pat on the back. Then I could browse other user's reviews of the workout, giving me kind of a virtual water cooler post-workout camaraderie. One exerciser likes Ellen Barrett's encouragement, another used heavier weights than the workout recommended and liked it better that way. Mike Donavanik obviously attracts crazy hard core exercisers, since a number of them run all three of his advanced-level half-hour workouts back to back into a 100-minute sweatfest, and then post reviews exclaiming how awesome it was to almost die from fatigue.
It also guaranteed I'd never have an excuse not to work out — all I needed was a slightly different video to jump start my routine again. When I couldn't motivate myself to do my one-hour, or even my 40-minute workouts any more, I bought some which were only 30 minutes long, and still challenging. And like the Mike Donavanik fans (ok, I'm one of them, too), I could chain two shorter workouts into a long one whenever I did have the time.
Collage was also adept at introducing me to other instructors and new kinds of workouts. I had never heard of Jillian Michaels. But a few years ago, I had the chance to buy The Firm Vol. 3, an exercise video I'd owned on VHS and had to transfer to DVD myself, in an official release (and for $19.99). College only gives free shipping for orders $25 and above, so I looked around for a cheap video to pad out the order. If I didn't like it, per Collage's liberal return policy, I could return it within 30 days. Jillian Michael's $8 Ripped in 30 looked like it was good enough to warrant a go, and most of the reviewers gave it glowing reviews.
I ended up loving Ripped in 30, and it is one of my favorites to this day. I praised it so often my husband (who has only recently realized that giving your loved one an exercise video is not a negative comment on their fitness or shape), bought me a 3-pack of her other videos. She's hit-and-miss on some videos, but Collage pointed me to another similar instructor, Kelly Coffey-Meyer, who also has fun and challenging half-hour workouts that don't require memorizing a dance routine. And meanwhile, all my fellow exercisers are dishing out their opinions of the instructors and referring to others in the reviews.
But now it's gone. Within an hour of hearing the bad news, I was on their site, stocking up on random videos — those with instructors I'd heard of but hadn't tried (and whose videos are not available on Amazon, BTW). I grabbed some cheap, short videos for less than $5 each, since it's always possible to be pleasantly surprised, and I may try out exercise bands for the first time. I certainly wasn't alone in the sad splurge. Even while I was shopping, titles were selling out, and today, most of the titles I purchased are no longer up on the site (which is why I had to link elsewhere). I wouldn't be surprised at all, if by the time they finally put my order together, that I may not get a few of the videos I ordered, and have to make do with a refund instead.
No matter how cheap Amazon or eBay or Overstock or Walmart may be, their algorithms are nowhere near Collage's for helping me find new videos. I'm afraid that from now on (excepting any new instructors I discover liking during my splurge), that if I buy in the future, it'll only be those who are known to me or best-sellers of unknown quality or appeal.
You will be sorely missed, Collage Video.