We had seen the concert we'd come for, but we had another day to spend in Minneapolis, and I wanted to see and experience what Minneapolis had that I would not find anywhere else. It was already clear that it's a cultural nexus for the upper Midwest.
So for breakfast, we went out to Caribou Coffee, an near-omnipresent local chain. (There were at least 4 in the Mall of America.) We had some delicious coffee drinks. I told the baristas I only had a day left in Minneapolis, and asked if there is only one place I could eat that would represent Minneapolis, what would it be? Brits Pub, where we'd gone the night before, was one vote, but overwhelmingly the other was Matt's Bar, followed by if you can't get in, the name of another number of dive bar named places like Ray Jay's and Blue Door Pints.
I discovered what they were pointing me to was a local specialty and the kinds of places that serve such food. For Minneapolis is the birthplace and home of an inside-out cheeseburger called a "Juicy Lucy."
We'd had breakfast, and plans to spend the rest of the day with some local friends who'd be available later, so we headed over to a music store called The Electric Fetus.
While everyplace has a music store, there are few music stores so amazing as to be regional icons, with knowledgeable opinionated staff, both new and used music, a focus on regional bands, and gifts and goodies reflective of and aimed at the local subcultures. These places usually max out our credit cards. Amoeba Music in Berkeley is one; Waterloo Records in Austin is another. And Minneapolis has its own.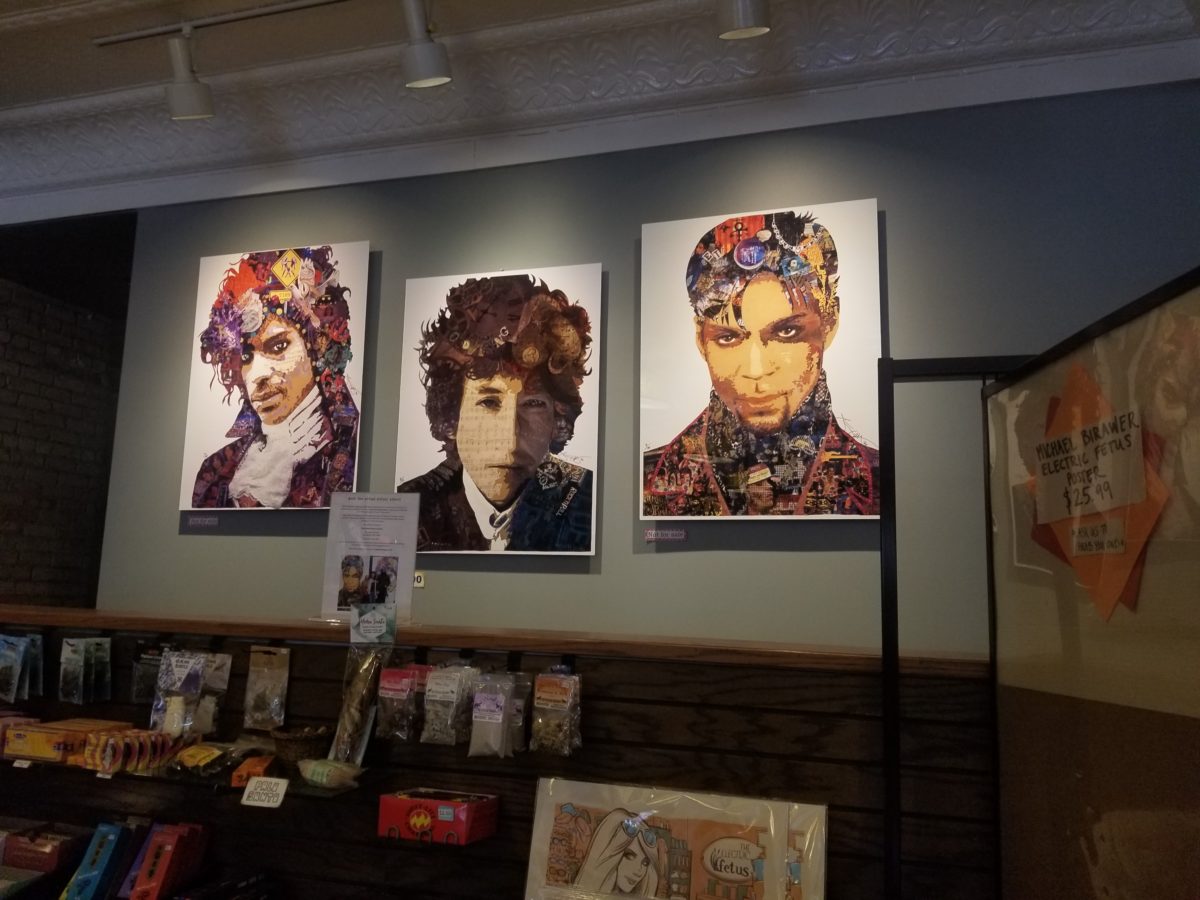 From the quirky insouciant window display (go ahead, sit in the window….) and a variety of Prince t-shirts, this place was indelibly Minneapolis.
And as such, I needed some translation, as the genres they had didn't map to mine. In the Bay Area, there's a rock section, but subdivided — classic rock, soft rock, hard rock, modern rock, surfer rock, and if you are there, people know of what you speak. In Nashville, there is rock and folk and country but the musicians here are a bunch of music whores so it gets mixed up into what we call Americana, which then itself spits out into new forms of those aforementioned genres. That's what I hear on my favorite local station and what I hear at our local music festivals and clubs.
So when I went to look for Lukas Nelson & The Promise of the Real, whose latest album got me through the second half of 2019, I didn't know where to look. They are not rock, not folk, and not on our country radio stations. This band might get booked to the Ryman, but not the Grand Old Opry.
Electric Fetus had his music in stock, but to my surprise (but not too much of one), had him under country. A Minneapolitan may be similarly amused being asked to look for Prince in the R&B section, when depending on the album or even the song, it's jazz, gospel, rock, soul, funk and a mismash of some or all of the above. Prince has his own section at Electric Fetus, by the way.
A little later, a manager approached me with an album from Lukas Nelson and the Promise of the Real signed by members of the band. Would I like that? Oh, YES. (It is now framed and hanging on my wall.)
In the meantime, Peter found all sorts of albums and releases we didn't even know existed. Our daughter got a Taco Money purse and our son a solar corgi. I now have socks announcing "I heard you….and I don't care." And very Minnesotan band-aids: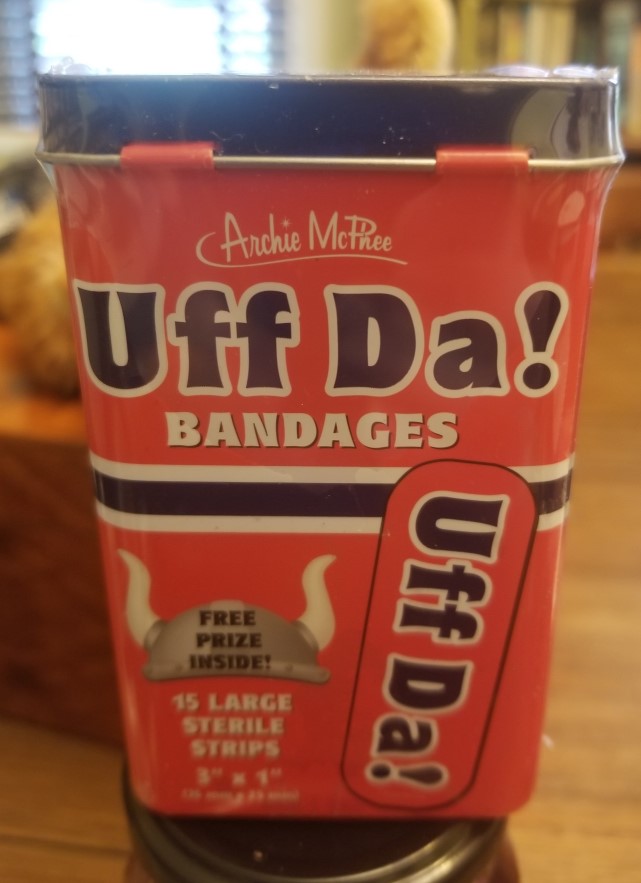 At the point that we'd collected enough stuff to fill both the suitcases we had brought, we checked out and fled to Edina before another awesome item called out to be bought.