Peter has a childhood friend whom we always see in (and is a reason for going to) the Minneapolis area. He and his wife are life long locals who moved to Edina, Minnesota right around the time they had children. We saw them at their wedding; during our trip across country; and now, each time about a decade apart. Our children have gone from non-existent to young to now where they can be briefly left on their own. And of course, as soon as we had booked tickets to Minneapolis, we asked them if we could come over and stay.
For those who are not from the Minneapolis area, and who are old enough to remember SAT analogies:
Edina:Minneapolis::Cupertino:San Jose::Franklin:Nashville
Or more inexactly, it's a nice place to live with good schools, no crime, nice parks and it has managed to not become douchy, though it is made fun of by the people who wish they could live there.
We caught up on our lives and admired what they and their children have done and accomplished in the, uh, almost 12 years since we saw them last.
I would have complained about the cold, but it was a downright balmy 20 degrees and I'd already survived one night. I told Mike and Kim I wanted to see what Minneapolis has that I won't see anywhere else.
Minneapolis has a number of great micro-breweries (and at least one major brewery as well.) But after some discussion, Mike decided the one to see was Surly Brewing. This was the same place that created teh First Avenue beer Peter had had at the club the night before.
It is a huge brewing company and it was packed with people even in mid afternoon. Nonetheless, getting a beer to try wasn't hard. There was a white wine beer which is exactly what it says it is. It is beer, but it tastes like a sparkling white wine. But it's beer…. Peter and Mike had a dark beer so thick and sweet it tasted like molasses. Kim had a different dark beer which is what they each had later. They also had sour beer, a style that goes in and out of fashion and a range of both standard and exploratory beers.
Though we didn't plan on dinner until later, appetizers sound like a good idea. But then we couldn't decide on just one, because they were so interesting and intriguing. We had a charcuterie plate with duck pastrami. We had perfectly grilled brussels sprouts, though Mike said they were even better when bacon wrapped. We had to have pierogi. And when we saw Nashville hot chicken and the server promised us it would be truly Nashville quality hot, we said bring it on.
The chef impressed us on every dish, except for the Nashville hot chicken. But then we have yet to have anything that is really Nashville hot chicken outside of Nashville regional. (Especial stink eye to KFC and TGIF.) I would like to create a public service announcement for all y'all: adding cayenne, or even cayenne, to your spice mix does not mean it is Nashville hot. And that chicken better be a perfect, juicy on the inside and crisp on the outside and no mistakes. Nashville hot chicken is an art form, that requires the artistry of an expert chef and the sadism to be willing to make your diners suffer. Imbibing in hot hot chicken is a masochistic "hurts so good" experience, and honestly, most local Nashvillians order their hot chicken "not hot." Perhaps I should not order hot chicken from any place that does not make you pay for it in advance. And perhaps Surly could offer an upscale Juicy Lucy instead…..
For those who want more pedestrian food, Surly had a pizza bar upstairs. We had gotten a table and Surly was a hip enough place to have production assistants running around looking for young hot singles willing to audition for CBS' Love Island. One assistant playfully framed us: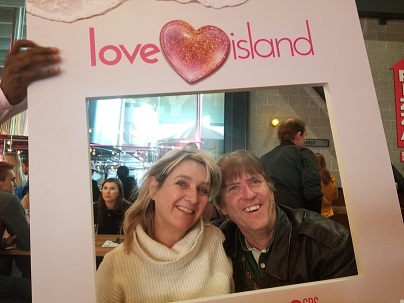 There weren't plans to cast in Nashville, and we're not their demographic anyway, but we will watch the show to see the Minneapolitans who do make it to the island.
Our show tickets were for 5 pm, so we had to go. Cleverly our server had a system that allowed us to check out at the table. Next up, we were going to see comedy the way it should be.