Nashville audiences have made me soft. No matter the artist, no matter the venue, no matter how many hundreds of thousands of people there are in the audience, they don't crush or shove one another, except by accident. As the crowd gets bigger and the show more exciting, there is simply a folding forward, and if you don't like it, you can let it wash past you because the acoustics are probably better where you're at anyway. You can definitely tell the out of towners at Nashville shows, and everyone knows who they are, bless their hearts.
San Francisco Bay Area shows could get much rougher, and I had perfected pointed elbows and a broad stance to keep a spot because the only row is the front row. And a donkey kick to get the people trying to crawl up my back off it.
I didn't quite know what to expect in Minneapolis, though I could already tell y'all that their definition of "nice" is not the same as it would be in a Nashville dictionary. After checking out the merch table, we had arrived early enough to get a comfortable spot near the front. How many people were really going to go out in a wintry night in Minneapolis to see an aging band with only a local following? Answer: the club's full capacity worth, all of whom know they are The Suburbs' #1 most die-hard fans. And from years of getting on and off busses filled with people wearing parkas that make them 3 times their actual size, they have perfected the art of finding spaces to move in between and to where there is none.
Peter warned me to move closer and we were but inches from the fans directly in front of us, but we could blink and POOF a small army of people would slide in. This happened several times and short of giving frottage to the large scary punk in front of me, this Nashvillian did not know what to do. And I still did have to apologize to him once for an awkward moment of physical intimacy when I got shoved into him. He said it was ok, he was used to that happening at concerts.
On the other hand, First Avenue has several excellent methods of crowd pacification. One was lowering a screen in front of the stage when there was no performance and playing music videos from the 1980s. Another one was bar service on the floor with a bar maid that had also perfected the art of squeezing in. I was pretty much beered up for the day, given that waiting took place in bars, but Peter could not resist having a First Avenue branded beer when he saw that existed: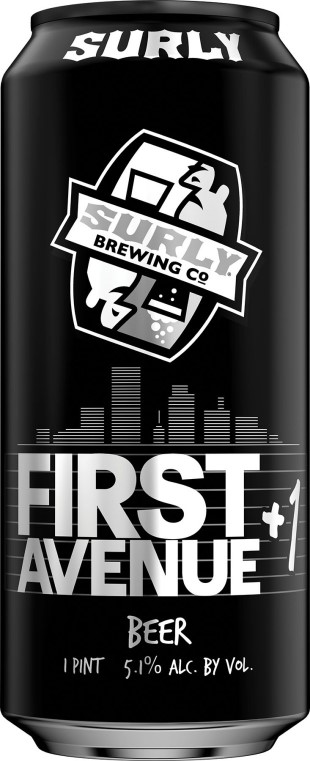 It turns out this show had an opening band, Miloe, which struck me as a near-suicidal mission for a crowd like this. At least they were local and smart enough to sneak in a group of their own die-hard fans. They put on a good show, and kept it short, and survived. Plus it was their first show at First Avenue, and there was that to cheer for. And that if their show had been bad, that it would have been their last.
By the time they left, the crowd was roiling. They had thawed out, they had come from nearby and from far-off locales like Rochester, Chicago, and Duluth. They spoke of "Beej" and "Chan" as of dear friends, and speculated which songs the band would play. Their logo appeared on the screen atop a music videos and the crowd howled. And the logo stayed and the screen didn't go up, and the crowd got louder.
And then the show began, with "Love is the Law," one of their most iconic songs. They rocked they rolled. It was the first time in a very long time I've seen members of the band drinking anything except water, which probably added to the appropriate level of chaos. A unexpected stylish dancer came out for "Rattle My Bones" and proceeded to rattle everyone's bones. The encore (for there must always be an encore) started with a beautiful version of "Life is Like" after which some members of the Suicide Commandoes (another local punk rock band) stepped in for two songs. And it ended with "I Like Cows."
Then the crowd unfolded into separate packs. Peter went back to the merch table. Given the size of the crowd, it seemed likely that even a one-mile rideshare would be pricey, so we walked back. I noticed that unlike it other towns, there were no announcements of the local temperature. But by this point, as long as we kept moving, I knew we would live. Plus poking a glove into the very fluffy snow is fun — because it's so fluffy! California Sierra and Nashville snow is sticky.
I tried to get into the Skyway, but it was closed. There was a hot shower in our hotel, and had I been more frozen, there was a sauna.