When I was young and single, a roommate showed me how to have a great Valentine's Day regardless of whether you have a partner.
Valda was in her mid- to late-30s and had built a life anyone could admire. She'd built a successful career and was working for a dentist she liked; bought a condo that she sold to buy a small house near Mills College in Oakland, California; enjoyed visits of her nearby Latvian-speaking family including her mother, her sister, and a cousin. She enjoyed taking enrichment classes at the nearby community college, and going salsa dancing with friends.
I rented a bedroom from her for several months. She'd occasionally have a beau but while I was there, I don't remember her having any serious relationships, although she wasn't adverse to one with the right guy.
Well, Valentine's Day 1990 rolled around. For the first time in my life, I had a boyfriend (the same man I'd later marry) on Valentine's Day. She didn't but still celebrated it in such a fun way, I wish I had had done much the same in years before.
Valda went and bought a package of those small paper valentine's you can get in packages of 20 or 30. They're intended for elementary school children to pass out to each other on Valentine's Day, so everyone shares kind messages to one another.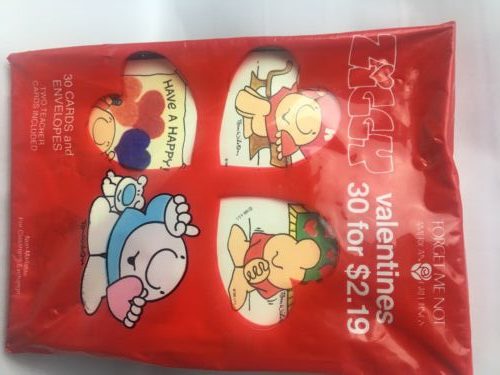 Valda took these little valentine's and gave them out to her friends, our neighbors, and her co-workers. It was a lovely gesture that brought joy (and a silly smile) to everyone who received it. And even though Valda didn't have a boyfriend that year, she had lots of friends who would remember the sweet girlish gesture.
After I moved out (into a tiny studio whose walls were as much spackle as drywall), I lost touch with her. But wherever she is now, I wish her a happy Valentine's Day, as she did to those around her that year.