We've now been living in Tennessee for just over a year, and it's beginning to feel more like home. I may be redundant, but it is still disorienting that we now drive to the family (in Columbus, Ohio and Gettysburg, Pennsylvania) which used to fly out to see us, and I'm no longer busting out my Bon Appetit recipes to put together a Thanksgiving dinner. The patterns we'd fallen into in San Jose just don't fit in Williamson County, Tennessee, so we've found ourselves doing extraordinarily different things. Halloween included a hay ride during which we could shoot paintballs at zombies (portrayed by local high school kids.) Our daughter joined the local 4-H archery and livestock clubs, so we may create our own small archery range, and have to had to rebuff suggestions for which livestock we can raise on our scant acre.
Peter and I joined the volunteer fire department because a) they needed people, even people like me and Peter, and b) it offered a lot of valuable training for free, like smoke reading and CPR. A few months later, after I'd climbed 4 stories in a building, wearing thermal clothing, and was huffing from a heavy air canister harnessed to my back, and I was trapped under a fake roof in the dark under threat of suffocation, I pondered what sort of insanity had put me in this position of my own free will. I made it out before I exhausted all my air – but in the next few months I have to repeat that trick. In a maze. That is on fire.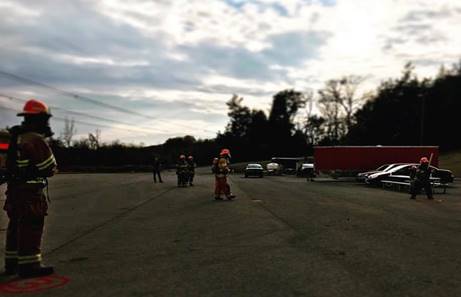 Up at bat in full firefighting gear (including canned air) in November
A lot of strange things here are explained by the locals with the phrase, "You're in the South now." How is it the consignment store is selling fur coats, even though they are supposed to be out of fashion, and besides, Nashville rarely sees anything more than a dusting of snow? "Honey, you're in the South now."  Why is Maury pronounced "murry"? "Brother, you're in the South now." The local newspaper runs a column by a church lady who always at least once writes "call me for more information" – but she never actually includes her phone number. "Oh, you're in the South now." Please do note that I have been here long enough to not question the existence of a bi-monthly column that lists all the upcoming ice cream socials, pancake breakfasts, and benefit barbecues for all the United Methodist churches in the county, and congratulations and prayer requests for random people, none of whom I know. Yet.
When I left California, I wrote about the things I would miss and what I wouldn't. So along those lines, I'll tell you about some things I miss now, some things I thought I'd miss but don't, and some of the things I particularly love here.
Things I miss
Sidewalks. Yes, it's more of an urban development thing rather than locale, but I lived most of my life in places with sidewalks. Sidewalks invite you to walk to the places they lead to, like coffee shops, and grocery stores, and parks. Even parts of urban Nashville don't have sidewalks, much less bike lanes. You can still walk or bike, of course, and I see people doing so. But it's done so rarely that when I neighbor saw me walking home from the grocery store, he wondered if my car had broken down.
Wine. Northern California has a wine culture like no other, and I have yet to find anything like it anywhere else. There is a posh winery not far away – which everyone who enjoys wine around here goes to – but is like a Disney California Adventure version of a winery, with wine tasting appointments, golf cart rides from the parking area, and eerily consistent vintages of its wines, which tend towards the sweet, in reflection of local tastes. Tennessee at its heart, is prohibitionist with wine and hard alcohol sales forbidden on Sundays, and in some counties, for the rest of the week, too. Most wines can't make it out of California to here, and the wines I know that are available here cost as much as twice as much as they did in California. So I often just stand there in the wine aisle at the grocery store, mentally fighting with myself on whether I really want to spend that much on that wine.
Citrus Trees. Right now, I have a lemon tree that spends its winters in my office, and I can't shake the notion that lemons come from trees, not stores. For more than 20 years, if I needed lemon zest, or lemon juice, or a whole lemon, or an orange in the same way, I just ran over to my neighbor's house, where she had three prolific lemon trees, or picked one of the oranges hanging over my fence from next door. Lemon zest makes vegetables and poultry better, and I used it liberally. Now (until that lemon tree matures), my only option is dead lemons I have to pay for.
Things I thought I'd miss but don't
The Beach. I really thought I'd miss the beach, and yes, the Florida beaches here aren't the same – and might even be considered subpar if you enjoy surfing and concerts. As it turns out, my brother lives near the most spectacular, warm, and glorious beach I'd ever seen, complete with an optional corny beach scene that goes on for miles, and epic events like jetski poker and water slides you have to swim for. The water sports scene in "landlocked" Tennessee isn't bad, either. I enjoyed working out on a paddleboard on a gentle small lake not far from my house, and unlike in California, the lakes and rivers are warm and tranquil – just don't fall out of the canoe, lest the water moccasins bite!
Avocados. When I went to school on the East Coast, avocados were still practically unheard of. But they have since taken the East Coast, and especially Williamson County, by storm. Two kinds of avocados are available year-round. The fresh food I had in California isn't as readily or as cheaply available here, but Tennessee has lots of other great local produce, like wild blueberries, turnip greens, and curious new kinds of relishes. The year-round farmer's market has organic, free-range local chicken, lamb, pork and goat. So I am far from perishing from lack of fresh, local food here.
Art Museums. We have the Frist, which is more like the San Jose Art Museum than the De Young. But the music scene here more than enough makes up for the lack of Dali and Matisse paintings. Not counting all the musicians I will see and hear for free as I am out and about, this month includes seeing Simple Plan, a punk band with my daughter; Sixwire, an amazing local Americana band who almost always has a surprise legendary guest, like Lee Greenwood, making surprise appearances at their concerts; and Gary Numan. I am so spoiled for music I passed up an opportunity to see Saint Paul and the Broken Bones in favor of a Christmas Tree lighting and the Franklin Art Crawl (which is like pop-up art galleries). Besides, Chicago and DC are within a day's drive, so a good visual art fix isn't hard to procure.
Things I really love here.
Kind people. Compared to the people here, the rest of the world is in some sort of rudeness competition. Just as an example, no one honks here – that is, unless a life is in imminent danger, or you just saw a dear friend (aka someone you know) and they are too far away to hear you shout "love you!" Things such as zoning out in front of a green light, cutting off another driver, or your neighbors doin' some visitin' in their vehicles do not merit a disturbance, when one may simply exercise one's patience. I have become so accustomed to this that when Peter and I were driving around Columbus, Ohio after Thanksgiving, I was startled by all the honking, for reasons I could no longer understand.
No crime. Williamson County is not kind to criminals, so we don't tend to see much crime. Currently, Operation: Not in Our Mall is in effect (yes, that is really the name), with undercover police identifying and following shoplifters to their cars, where they are then arrested, the car is searched, and the shoplifter's face, identity, and criminal record is beamed via internet to all county residents. The shoplifters are all from out of the county, and often irate that their five-finger discount doesn't work here. We had a car theft in this county in June or July; the police got on the scene fast enough to find the car still being driven by the car thief. They shot out the tires, and when he jumped out of the car and made a fuss, they shot him too. We haven't had a car theft since.
Dogs. It surprises me that we still don't have a dog, since everyone else we know has one. Williamson County loves dogs. Shops and restaurants in downtown Franklin advertise whether they allow dogs within or not – most do, and those who don't will be sure to have a water bowl and possibly treats for the dogs to enjoy just outside. So it is especially curious that the local winery bans dogs, when California wineries did not.
So, yeah, I'm in the South now. Our friends here are still a bit curious as to how we landed here, rather than someplace a little bit more familiar to our (previous) culture – especially when we get snarky or scream with shock and surprise at a new discovery, like bacon chess pie, or the concept of "leaving room for Jesus." But we all having fun and some day I'm sure, we too, will have a dog.