Peter and I have been fans of the TV show Supernatural since it first aired (after we'd seen a booth promoting it at Comic-Con in 2005). He has decided I need more fun in my life, so at Christmas he bought us Saturday tickets to a Supernatural fan convention in Burlingame (near San Francisco.)
It was my first time going to a for-profit fan show as opposed to Comic Con or Wonder Con (more on that difference in another blog post), and it was definitely a lot of fun. The convention goers were largely (and by largely, I'm estimating 95%) nerdy girls. That's great, because I'm a nerdy girl, too, as are most of my friends. Peter, obviously, loves nerdy girls because he married one. This was a crowd we could get along with. Although it soon also became clear that to fit in we needed to have binge-watched the entire Supernatural series within the last two weeks and be active members of tumblr sites I've never heard about.
The actors who appeared put on a good show and made sure everyone had a good time. Richard Speight, Jr. (who'd played Loki the Trickster in several amusing episodes) was the master of ceremonies, and as advertised, excellent at it. At the start of the show, he instructed the fans to get out their cell phones and videotape his announcement of the no-filming rule and advised us all to begin all our YouTube postings of the show with it. (Alas, no need because the lighting made getting good pictures nigh impossible.)
Our next hint that this wasn't going to be standard yack-chat-trailer con fare was after Gil McKinney (Henry Winchester) took to the stage. The musician-actor band Loudon Swaine busted out the song "Under the Sea" and Osric Chau (Kevin Tran) was wheeled up to the stage in an Ariel costume.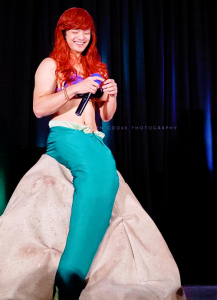 Thereupon, he handed a white jacket to McKinney and made him wear it so he could look like Prince Eric during the panel.
Next up were Mark Pellegrino (who played Lucifer in the series) and Sebastian Roché. We had to look up the role Roché played — a degenerate angel named Balthazar — to remember him, but that wasn't necessary, as the convention took a brief hiatus to turn into the Sebastian Roché Experience. Upon stepping on the stage, he cued the band to play a song he called "Girls, Girls, Girls," rushed into the audience thrusting his pelvis, and goaded about a 1/3 of them including everyone in the front to join him in a lambada-like dance. In between anecdotes and impersonations, he'd briefly turn his attention to one of the hapless people waiting in line to ask a question, but interrupt them almost immediately to ask "What's your name?" He'd them repeat the name purring, "Well, hello [insert name]… How are you?" and sidle up to the conventioneer who most of the time had completely lost her composure and had been reduced to babbling incoherently. If that hadn't happened, Roché then misrepeated the question. And then, there was the guy who introduced himself as "D'Andre" which Roché immediately assumed was French (despite protestations thereto), whereupon Roché started speaking French, ran back up to the stage and asked all French speakers in the audience to identify themselves, insisted everyone (French speaking or not) yell out "Bon jour!" and mocked our collective bad accent. When he finally turned his attention back to D'Andre, he made D'Andre put on a fake French accent to ask the question. This was only a fraction of what happened. I think Pellegrino may have gotten a few words in, but not many, even though I think almost all of the few questions that did get through were addressed to him.

After that it was a relief the show turned its attention back to its fans. We saw some fan-created music videos which were quite impressive: one for instance, took scenes selected from 9 years worth of the show, and synced them to match the sound and vocals of an original song. Stump the Experts! featured 3 volunteers who'd binge-watched the series recently getting asked for arcane information by a just-as-keen line of their fellow fans. What is Dean's favorite memory?  What song does he hum to himself in Series One, Episode 2?
Peter and I went out to lunch and came back in time to see Mark Sheppard (Crowley.) Amusingly, he'd send people who asked questions he deemed not worthy of answering back to their seat — when he was asked what he'd wish for if he had three wishes, he said "#1 is that you go sit back down." But it was also the most interesting panel for us. We found out that he'd been a drummer for the anarchistic band Television Personalities in the 1980s. In response to a comment regarding a post about cyber-bullying which appeared on some social media feeds I don't follow, he gave a poignant  talk about self-harming, that it can take on various forms, having to understand its psychological root, and the importance of reaching out to others for help and support. I really hadn't expected that at a fan convention.
He was followed up with another part of the show I'd been looking forward to: the costume contest. I had hoped for more costumes, but I'm used to the Comic Con sort of costume, where the cosplayers are now a genre of their own. That said, there were a lot of good and imaginative costumes, but many referred to episodes I faintly remember (i.e. there were two gym coach Deans). So many people dressed up as Castiel and various aspects of Castiel that they had their own category (Castiel vs non-Castiel). I think the winner of the non-Castiel category were two fans who had dressed up as Rowena (Crowley's witch mother) and a demon bell-boy with a slit throat. This guy won the Castiel competition: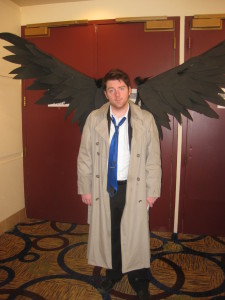 What isn't apparent in this photograph is that he also built the wings so that he can fold them down with a shrug, and expand them back up with a small jog, and that he's holding a small dagger in his right hand.
I also liked this woman's costume, though I was fuzzy enough on the series that I was surprised to see her in the Castiel portion of the costume competition: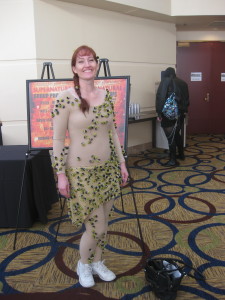 I think it refers to this, making her that which Castiel watches rather than a Castiel. Reviewing my blurry picture of the group Castiel pictures, all of them (male and female) understood the reference, but even not knowing it, I thought that was a cool costume.
We switched over to general admission seats on the other side of the hall, expecting that it would fill up for the Misha Collins (Castiel) panel later that day. A short auction gave people a chance to scoop up souvenir packages and memorabilia, including large banners which included the actor's autograph. If it hadn't been obvious already, the fans here are not Twihards. If they're watching anything else, it's Doctor Who (which more than one fan referenced) and Firefly. A set of Twilight autographs which could likely sell for $300 or more (by our rough estimate) on eBay barely got $80.
The penultimate panel of the day featured Speight, Matt Cohen (Young John Winchester), and Rob Benedict (Chuck the prophet). We'd completely forgotten the name, and during the panel we found out we'd completely missed on what is now up with that character. As for the rest of the panel, it started with a fan asking the group to tell us what had gotten them into acting, and Speight riffing that Cohen had done so because it was one of the few careers open to him which would let him strut around in tight-fitting t-shirts and it kept going downhill from there.
So a word on the panels and the fans: there was a great interaction between the actors and the Supernatural fans. The angst of the teenage nerdgirl appeared in many of the questions: what was your most embarrassing middle school memory? what were you doing when you were a high school sophomore? how do you recommend surviving high school? The actors answered candidly. They, too, have had cringeworthy moments of embarrassment in youth and on set. And they didn't have fun in high school, either — if they even went. Sheppard was off playing with his band; Collins advice on surviving high school was "don't go." I'll say it helped assuage some of my doubts at having homeschooled my son though high school, and as my daughter shares the fears of her slightly older peers who were at the show, I think she'll be ok if she can find her nerdgirl cohort.
These are the kind of people who can make those videos and spontaneously show up with things like this: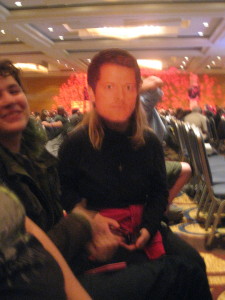 She'd put on a Castiel mask a friend had made, and it gave an eerie, startling effect which made me laugh. I hope next year she or one of her friends wears it the wrong way round to see if anyone starts talking to the back of her head.
The hall filled when Misha Collins came on stage. I'll say it was the weirdest part of the convention. He brought out misshappen produce from a farmer's market, chatted with some people in the front and handed them the vegetables (after scaring Peter and me by making us think he was going to throw a gargantuan beet in our direction.) Fans told him they had named their children after his character, and whether he'd read a certain strain of Supernatural fan-fiction, which in the end, after a quirky digression, got responded to graciously. We related to his reasons for being a sleep-deprived parent of young children: our children were exactly that way, too. And then there was the GISHWEHS discussion, which we totally didn't understand. We kept saying "what is that? what?" to the Kate Libby next to us until she gave us a look of exasperation. The line of fans wanting to ask him a question stretched along both walls of the hall, so most of them didn't get through, but it ended with an awkward group hug (not with us), after which he left, and so did we.
I'm not sure if I have quite the commitment to become a bona-fide Supernatural fan. If we were to do it again, I think we'd spring for reserved seats (only $20 more) and a picture with Osric Chau in his costume of the day.