Last weekend, I joined my daughter's Brownie troop for their Brownie Camporee, which involved Junior Girl scouts from two local troops teaching the Brownies from 4 troops about knot tying, fire building, trail signs, and putting on silly songs and skits for others.
It took place at Camp Hidden Falls in Soquel. This Girl Scout camp had been mothballed for a several syears, but it was opened for our use on this particularly weekend. The years of having been forgotten showed, but it was still a beautiful place, settled in a redwood grove around Soquel Creek, both low and high enough to be temperate in the summer time.
The girls in the troop repeatedly asked why the place was called Hidden Falls. It was obviously plenty hidden already, in my opinion. The only way to get there was to get into the Santa Cruz Mountains and then go along the meandering Soquel-San Jose Road constantly keeping an eye out for the elusive Olsen Road. And then driving along Olsen Road, which soon became one narrow lane between a steep wall and a steep descent to the very end, whereupon the camp appears inside the woods.
But there were actual waterfalls as well, and I was looking forward to them. I love the secluded waterfalls of the South Bay, which can only be gotten to by foot, like Berry Creek Falls, Sempervirens Falls, and Pomponio Falls. Alison, one of the adult Brownie troop leaders, had been a summer camp counselor at Hidden Falls for years, and on Saturday afternoon she led us to the actual waterfalls for which the camp had been named.
There seems to be no map to the waterfalls: it wasn't necessary, since it was a single trail in and back. But there were portions where it had fallen into disrepair. It was a short hike, but mildly treacherous, in my opinion. But with the troop leaders keeping the Girl Scout spirit high (which I summarize as "We're having an adventure! Yay!!"), the young girls loved it. Even Kelly, who hates hiking, said this was her favorite hike, not a boring one like the one her mom takes her on.
Shortly along the beginning of the path, we passed the Sequoia camp site. It was closed, but back in its day, it was where the Ambassador Girl Scouts (11th and 12th grade) stayed.
The path narrowed to that for most of the trail, we went in single file:
In some places, tree branches had fallen over the path and we had to get over or under them:
But finally, after all that clambering, the oh-so-hidden falls appeared, down below in a little isolated dip:
Getting down to them was the most challenging part of the trail. Although it seemed difficult, the easiest way to get to or from the falls was climbing on top of a fallen redwood tree and walking along it to another fallen redwood tree and using them as a pathway. Alternately, one could step along a wall of rocks, which I thought of as ankle-busters, to get down and then stoop to get below.
In any case, the challenge was well worth the hike! The hidden falls were gorgeous, surrounded by the redwoods towering high above into the sky. Most of the girl scouts pulled off their shoes and socks and waded in the water.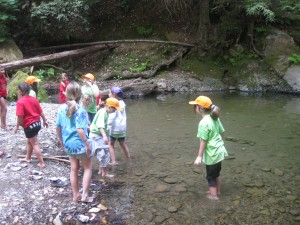 And then, we had to turn around a go back for the Brownies to prepare their dinner.
It was a lovely adventure, and while the camp is privately owned by the Northern California Girl Scout council, one that's only available for a few and invited to find and explore.