I left my blogging for several months, and returned to find out I'd given my audience a cliff-hanger. As promised in Part 1 of my East Coast travel journey, I had more to talk about for the rest of the summer.
It's a spoiler, but the rest of our road trips that summer were visiting Neil in Madison, Wisconsin. Gradually, trip after trip, it evolved from our memories of Peter's beloved college town (and the site of our marriage) into the modern day place we now think of as Neil's Madison.
The South comes alive culturally around the Fourth of July, and this year, we were truly part of it. The weekend before, we joined our firehouse captain joining in neighborhood parades with the fire truck and then hosing down the children (and yes, here the children actually want to have the hose turned on them.) One of the neighborhoods also asked us to join their neighborhood party and I judged the best dessert in their competition. I also went to see what an Ice Cream Social is around here, and, well, let me tell you, it is epic. The ice cream was all home made and fresh, and at 50 cents a scoop, I wished I had brought a bucket to buy more and take it home. There was also inexpensive barbecue for sale, followed by an auction with a fast-talking auctioneer who got $700 for a pie before Peter and I decided this auction was not for us. Instead, we went to a meet and greet with a local political candidate who eventually ended up becoming a local state representative.
We also repeated a win from our previous summer, setting the beginning of what might become a personal tradition. We headed to nearby Harlinsdale Farm with our lawn chairs to watch a zany 80s band play before enjoying the fireworks show.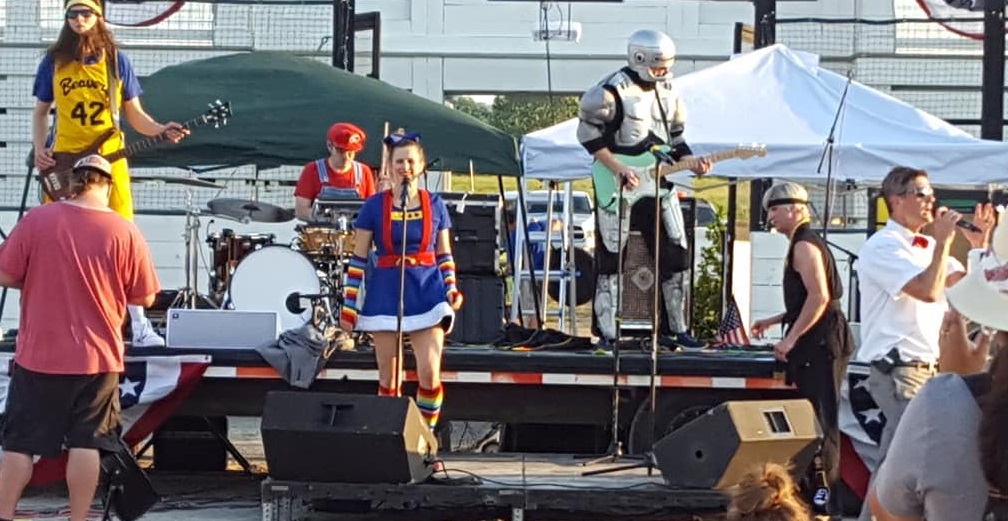 By the end of July, we had a weekend free to go see our son again, and this time I booked an Airbnb apartment within walking distance of his, so I could mom out and make some of our favorite meals, such as steak au poivre and chicken picatta for dinner. The arrangement also made it possible for us to watch the new Captain Underpants TV series together.
This time, we were also Madison tourists, rather than Madison nostalgists. We went to see the Mustard Museum, which was amazing. It was much more than we expected. It had lots of mustard jokes, free mustard tastings, a broad selection of mustards, and it was educational, too. Peter had never been a condiment using person at all, but now that he knows of flavors better than regular yellow mustard, it's a delight. Personally, I got hooked on Boetje's Stone Grown Mustard (it is good on everything, including vegetables and sometimes I think I could just eat it plain.) I also bought Lowensenf, a sharp mustard I remember fondly from my childhood (which I used liberally and quickly ran out of) and award winning Dijon mustard, since I do use a lot of Dijon.
Neil and I were keen on seeing the noted tourist attraction (and noted in Neil Gaiman's American Gods) The House on the Rock. For some reason, Peter had it confused with Taliesin (a house on a rock that had traumatized him with its boringness in his youth.)
We were all glad we did go to The House of the Rock, even though when we arrived at 2 pm, the hosts warned us that we would only have 3 hours to get through every section and each would be intensively intriguing. As mysterious, eerie, and pagan as Neil Gaiman makes it sound in the book, he still couldn't do justice to it. It is a work of love, an incredible number of collectible treasures arranged in fantastic ways, and architectural details which make Sarah Winchester's ideas look relatively sedate. And let's not forget that it is full of music automatons.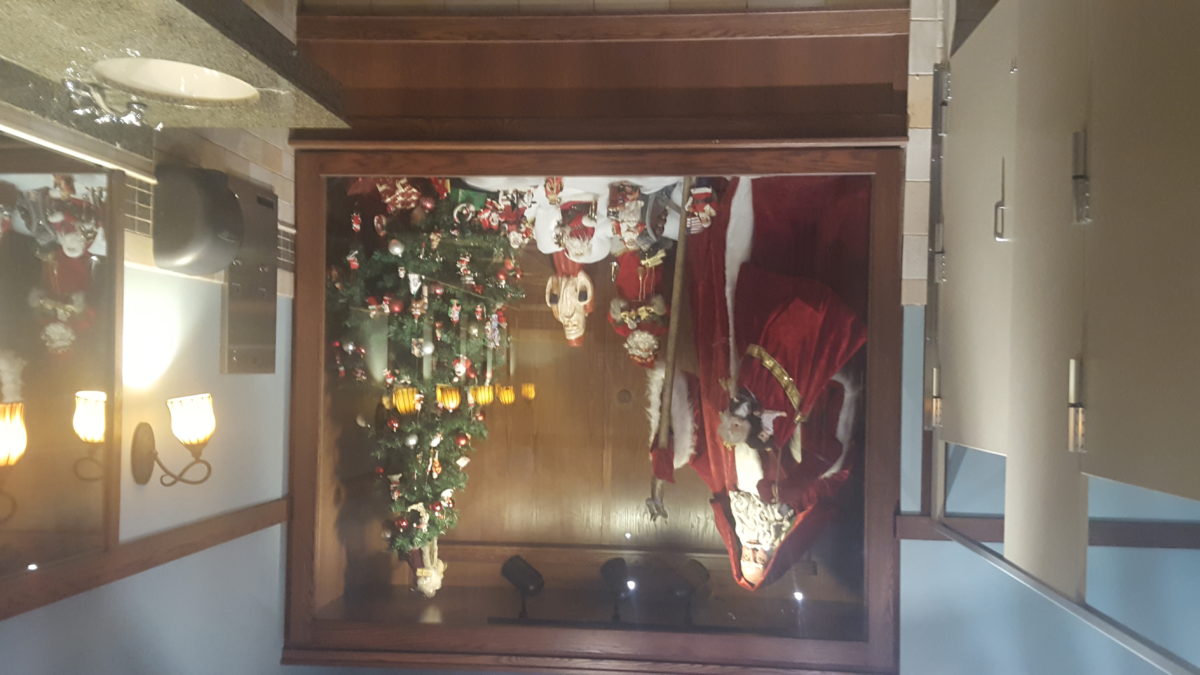 When we returned, just before my birthday, we indulged in another repeat: watching fake Journey (aka Resurrection) at the Carnton Plantation. This time we arrived early, and had close seat to the show. I even got fake Steve Perry to sign a Resurrection concert tour tshirt for me.
In August, Peter's parents were taking their own tour around the US, and came to visit us in Nashville. Knowing that Paul is a train fan and a foodie, I led them to Carter's, the restaurant in the Union Station Hotel downtown. The history and design of the place was great, as was the food. My mind and taste-buds were blown away by a pimento cheese and bacon jam sandwich with freshly made tater tots on the side.
They had also never heard of the Loveless Cafe, which is an institution and a tourist attraction here. So we made sure to stop in and enjoy their biscuits on a not-too-busy weekday morning. Scout had already started high school the day they arrived.
We took our last trip to Madison on Labor Day Weekend. Neil's summer intern peers were at schools on a semester system so they had already left, and we crashed with him in his now near-bare apartment.
The Saturday of that weekend, Madison had their food festival on the square where we could taste all sorts of tapas-sized fare (I had an egg on a stick). And, unlike most local festivals, they had beer!
On the way back to the university street, we saw several of the themed Bucky statues that have been around the town. One was German themed, so I had to take a pose with it.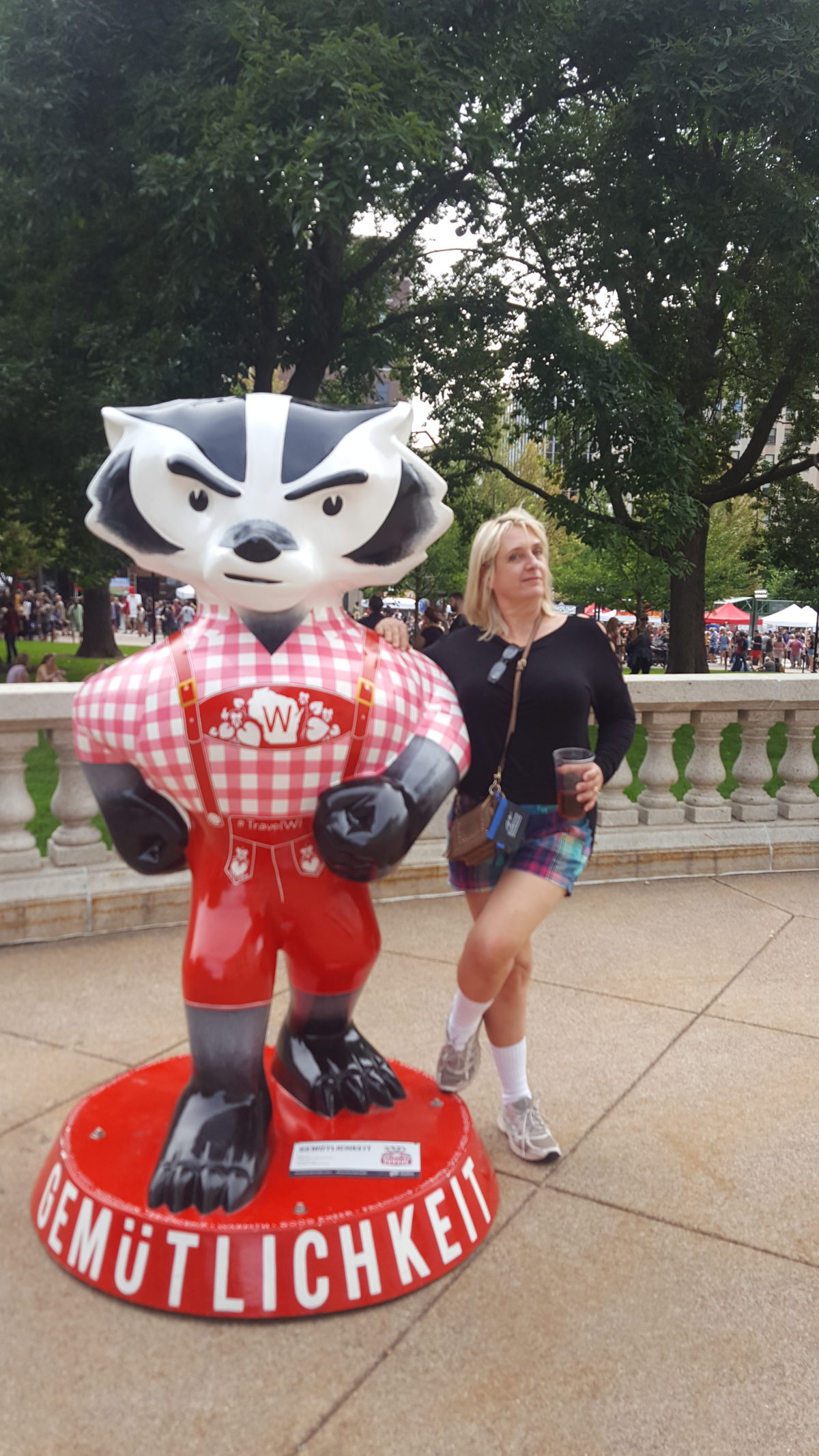 On Sunday, we finally tried out the intriguing golf course we were always driving past between Madison and Middleton. It was where we should have started because it was not just a good mini golf course, but a tour guide to Madison and to Wisconsin, respectively. Initially, we played the outdoor course which showcased Wisconsin attractions, and then went indoor which was all about Madison. The university Peter knew so well was there, but it reminded us Oscar Mayer has its headquarters here too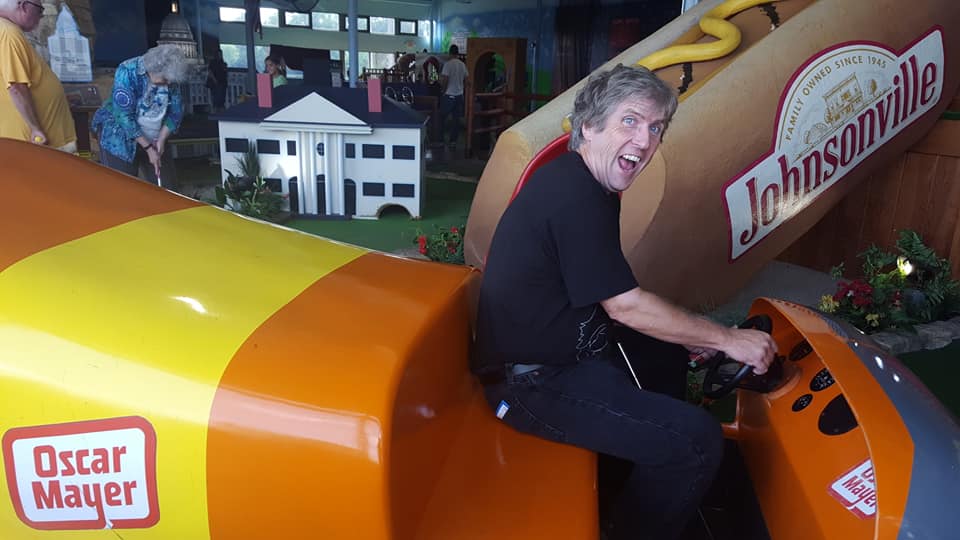 that the town is exceptionally bicycle friendly, that there is a great basketball stadium, and a planetarium. We could have taken note of the features and gone to explore them ourselves.
However, at the end of his internship, Neil decided he wouldn't be returning to Madison again. So that was the end of our summer, and our regular trips through Illinois. Our next set of adventures will be elsewhere along the East.