It started to sink in that soon we'll be in Tennessee, hoping that one of the houses we'll be seeing soon will suit us and be in a friendly neighborhood. I awoke from a dream about our former house, still empty and bare as we left it, waiting to be filled with life again. I hope that by now its new owners have moved in and made it their own.
We were shocked — shocked! — that our hotel in Austin did not have a waffle maker to make Texas shaped waffles. How could we know we were in Texas if there weren't Texas shaped waffles? We went over to Frank and Shelly's to complain about the indignity. Shelly gave me songs to listen to, loosely themed around road trips, October, California, Texas and Tennessee. An hour out of Austin, I teared up to Chris Isaak's "The End of Everything." I'm not going back to California now.
At Temple, Texas, we pulled into a Buc-ee's which helped me get over my homesickness. There were rows upon rows of gas pumps, and Peter filled up with gas at $1.88/gallon. I was beset by a fear that I will not be able to find hummus or avocado in Tennessee, but then I found not only could I get it at Buc-ee's, it came as Texas Spicy Hummus:
There was a line for the bathroom, but also a traffic director of sorts for the bathroom, identifying open stalls so the line could keep moving.
I saw some excellent cutting boards, all proudly promoting Texas. I can always use a good cutting board and was tempted to buy one, but then I realized it would be slightly out of place in Tennessee. But who knows, we may end up in Texas if we get skunked on finding a good house in Tennessee.
We stayed in north Dallas, again at the same hotel we'd gone to in 2014. Dallas is rich and corporate, and not at all embarrassed about it. The office buildings are huge and plentiful, and you can almost feel the hordes of people in dockers and Anne Klein suits working on their PowerPoint. No kidding, there is a TPS building near us which likely has people filing TPS reports unironically. But there's a lot that is pleasantly familiar in Dallas: out here we can still shop at a Fry's Electronics and eat at an In and Out burger. Our hotel was within walking distance of restaurants so Peter and I left Scout in the hotel room and went to a new place called Ida Claire. Even though our thermometer was in the 80s, it was comfortable to sit outside and have some beers. Our bartender had recently returned from working as an actor for 6 years in LA, and was planning on opening a fitness studio in Dallas.
Afterwards, we collected Scout and walked over to The Magic Time Machine, a quirky and cool restaurant. Our waitress was Harley Quinn, and we were seated in what looked like a yurt with elephant lining. It's a pretty silly place, but in a good way. After Scout and I got some salad from the car bar, a magician dropped by to do some close up magic. And at the end of our dinner, Belle and Harley Quinn came by with a candle and sang us a "congratulations on being homeless" song.
The next morning we went shopping at the Dallas Galleria, which is where the trophy wives gather. Since slumming is not allowed in Dallas, I bought myself some shoes at Nordstroms and some cute pants at Banana Republic; Scout got some Gravity Falls clothes at Hot Topic.
And then we went to the Texas State Fair. There is an amazing amount of beer for sale, despite the 95 degree temperature, perhaps to keep people sedated from all the weird goings on. As soon as we walked in we saw some male faires, which I thought was rather daring and subversive.
Oops, they weren't fairies, but rather butterflies, promoting the butterfly exhibit behind them.
The Midway Barker was literally half a man on a pole, and pretty nonplussed about it:
Speaking of things on sticks, we had come to eat fair food, and fair food we did eat. Peter tried a deep friend Reese's Chocolate Peanut Butter Cup, and Kelly had fried stuffed olives on a stick. That was actually pretty good, but I was looking for something special.
There was a lot of beer for sale, and it becomes obvious that Texas was settled by Germans. While Peter tried a funnel cake beer, Scout drank a cherry candy apple soda, which came in an edible cup.
Speaking to a bartender, Peter found out that (at least once upon a time) you set it up so the huge 60 foot talking man (Big Tex) would know your name and freak you out even more by calling you out. I wanted to avoid Big Tex, because this place was freaky enough, sober or drunk. But there was no avoiding him, because the most epic fair food was inside the food court behind him in Tower (pronounced "tawr" in Texan) Hall. After finding what I wanted in the guide, I marked right up to Scrumbelicious Pie Shakes (yes, you read that right, pie shakes) and announced I needed their deep fried pulled pork Funyun dings. I am not completely sure what was in them, but they were delicious. I did have to forego the fried jello, cookie fries, and loaded bacon mashed potato egg rolls, but sometimes you have to make difficult choices and this was one of them. I did manage to avoid getting Big Tex' attention.
We were loving Dallas, and Scout is all for stopping short and settling here. So we took a brief detour into a Dallas suburb, Plano. It was less boring than we though it might be. We ended up in its arts district, which was small, but impressive. The DART stops there. There was a pub with a stylish bartender and good local drinks. Scout wanted to have a Shirley Temple in a martini glass and the stylish bartender obliged.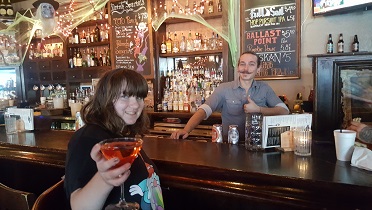 We looked a likely house in Plano. If things don't work out in Nashville, we may come back. Texas certainly made it clear that there was room for us in their big state. Even if it is kind of freaky sometimes.