A few days ago, I saw the headline that all Fry's Electronics stores abruptly closed. Sadly, there was nothing abrupt about the closing. But for anyone who experienced shopping at Fry's (for better and worse), it was a sad end for something that was a Silicon Valley tech geek analogue.
When I met Peter, he lived in an apartment in Fremont across from a Fry's grocery store. Yes, that's right, a grocery store. It wasn't long before he found the electronics store with the same name in Sunnyvale. It designed to be like a big circuit board, and had a hokey mascot that greeted people on the weekends called Charley Chip. But unlike the electronics stores of the time, it was vast. It had software packages, and selections of hard drives, and memory chips. And a laughably sexist magazine rack. And it was something new: a place where you could browse and find all manner of computer gear.
There were always ten to twenty people manning the checkout counters so the long lines. Hundreds of people purchased items every hour. Peter asked a manager how much the store grossed in a day, and he said $3 million.
Given that success, it was no surprise that Fry's built more stores in more places. And, oh, the themes! You could visit a Fry's just to enjoy the OTT themes. The Burbank outpost had a flying saucer crashed into its front.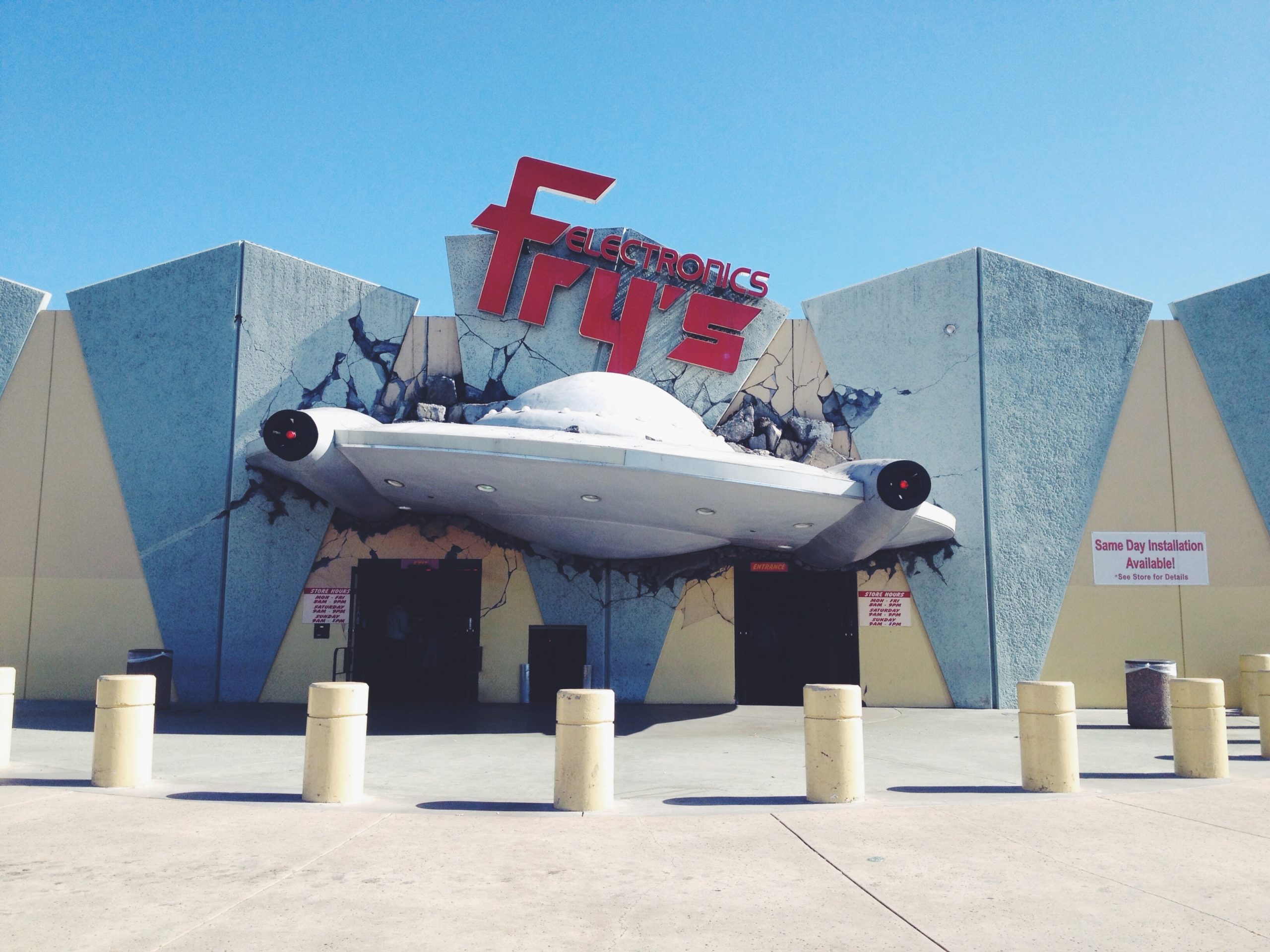 In Los Angeles, the Fry's had an Alice in Wonderland theme. The Las Vegas Fry's was like a casino with stone pillars of "gambling chips." The Palo Alto location had a Wild West theme with hay bales as tables.
After we moved to south San Jose and had a family, our local Fry's (in Campbell) had the ancient Egypt theme. Both my kids who were in tow with us since they were born knew how to spell "pharaoh" correctly by the time they could write. And anyone who was a Fry's regular in the 2000s can attest that each Fry's had regular events. A few times a year, you could get a hot dog and a soda for $1, with all the proceeds going to a charity. Our daughter jumped with glee to find a fairy princess inside the store one Saturday. The fairy sang to her and made a balloon flower for her. Meanwhile, an Elvis impersonator serenaded me:
Fry's also provided hassle in a way you just don't find in stores any more either. As swift as checkout was, so tedious were returns, with a slow-moving line, an associate who had to confirm each and every piece in and of the package was still there, and a dodgy piece of paper to use for in-store credit (unless you wanted your money back, in which case you could hope and wait for a check). Woe to you if you lost your receipt, or if you'd had the item too long. Most of the returned items, defective or not, went back on the shelves, so it was always a scary prospect to buy the last item of its kind in an already-opened box.
Fry's also advertised and pushed rebates that would make your purchase even cheaper than they could price it. A wall of rebate forms beckoned you to take advantage of them, and you'd carefully copy the receipt, circle the price for the item, cut the UPC code from the box, mail it off and cross your fingers. I'm pretty sure less than half of those I sent in were ever honored, but we did get some rebate checks.
The last time we bought something from Fry's was in the spring of 2016, before we focused on selling our house and moving away. By that time, our children had outgrown the events, if they still occurred. The outside escalator that would take you up to the store was broken half the time, but that mild neglect wasn't unusual for retail stores in the area at the time. But when we returned to California in June 2019, we were shocked at the state of the Sunnyvale Fry's (a newer location close to that of the original). The store was darkened, and whole sections were closed, including the cafeteria in its middle. The shelves were near bare, with no key products. It felt like we were the only customers there, and there was no waiting to check out with the sole clerk at the long checkout counter made for 20 checkout stations.
Since we left in 2016, we heard, the chain had declined. Now you can get any component you want online, often with free shipping. Software and books are purchased and downloaded directly from the publisher. Returns are quick and easy on the internet. The empty shelves led us to conclude (correctly) that Fry's was having cash-flow problems and put off paying its vendors for too long. Earlier our son had needed the kind of item that might have only been found at a Fry's 20 years earlier — albeit we found it at his local Wal-Mart.
That Fry's lasted through almost a year of the pandemic closures after already evincing such issues is the miracle. For those who enjoyed (and/or cursed) it in its heyday, it'll always be something that will never be matched or copied.