It is my first night being homeless and I am now in central California with Peter and Scout.
The last week was a frenzy of packing and preparation. I sold my car on Thursday. I canceled utilities. We threw and gave away more and more of what was left. And we threw a party one last time in our lovely house, as we mark all momentous occasions.
I expected to be more teary at the party, but it was more of a blur, like a wedding or a graduation. We were putting boxes away into storage containers and running last minute errands until the very moment the party began — and just then, we got a delivery of comic book storage supplies which Peter had to run up over to storage again. It was chaos, as this whole process began, but with our favorite people present, it was happy. Our guests came from all of our social spheres, to remind us of all we'd done. Peter saw former colleagues from Slalom and TiVo and Apple. Friends came from my homeschooling days and from my hiking group. Neighbors stopped in as did my Buddhist buddies. Our long time social group Scout (Kelly) had friends from every school she's gone to, and I was happy to see them taking advantage of the pool, even on the cooling October night. I had planned to take selfies with everyone, but keeping track of everyone quickly lost to wanting to take time to hang out again. Knowing that they were losing us as a nexus, some guests exchanged contact information.
Peter and I slept on the floor, having put our bed away in storage on Saturday. Today, we cleaned up feverishly, got rid of what little was left including Scout's bed. And then, as I handed some boxes over to a neighbor to mail on to our future destination, I began to burst into tears. Most of the neighbors on Thistle Drive were there before us, and were like angels to our children as they grew up. 4509 Thistle was inviting and gave us the chance to frequently invite friends over and socialize. Your environment does help shape you, and I don't know where we're going or what our next place will be like.
We put our last house key into the lock box and pulled away. It still feels like one of our family road trips. At some point, the fact that we won't be heading back will settle in.
There is no rush to get anywhere, or to get back. The further we drove, the more the adrenaline that had gotten us through the frenzy of packing and moving on faded. We rolled through San Luis Obispo and around Cal Poly. By the time we reached Pismo Beach, we were ready to stop. But a huge fog rolled in, so we wouldn't have been able to watch the sunset. And just then our realtor texted us saying the buyers wanted us to dispose of the touch up paint and weed control we'd left behind for them, or pay for disposal thereof. Pismo Beach wasn't going to be a happy place; we drove on and I suggested Solvang, a cute Danish-themed tourist town I last saw as a teenager, and intended to take my family to again, except that it always seemed pricey.
But we're living large, so this time we got a room right in Solvang, across from a konditorei (European pastry shop). It's called the Hamlet Inn, and there is a curtain rather than a closet door, so Polonius can hide behind it and get skewered. Solvang is as charming, or even more so, than I remembered it. Right now there is a contest on for the best scarecrow. My favorites so far are the ZZ Top scarecrows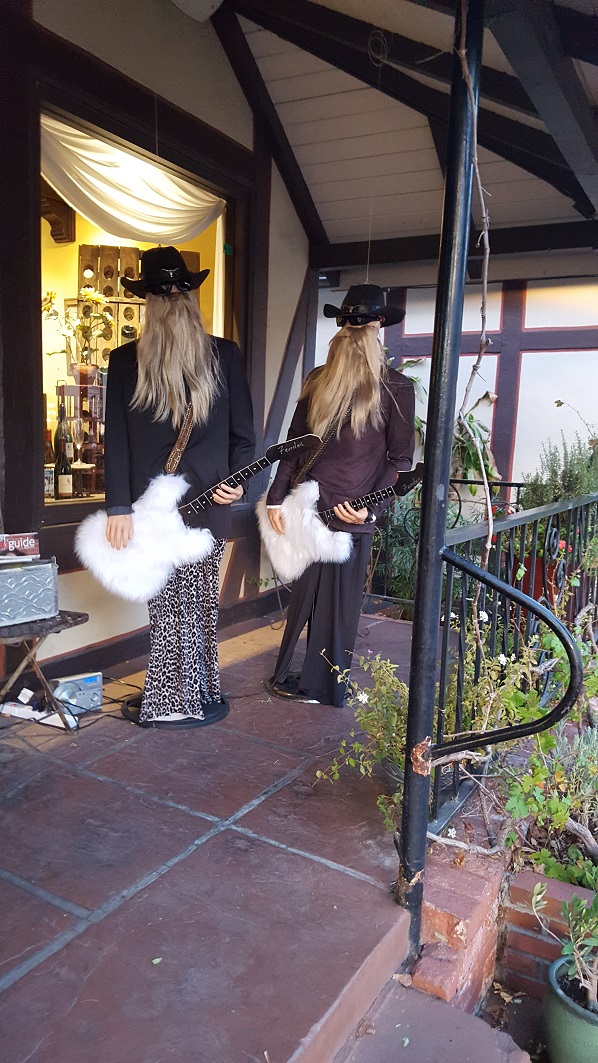 The spooky scarecrow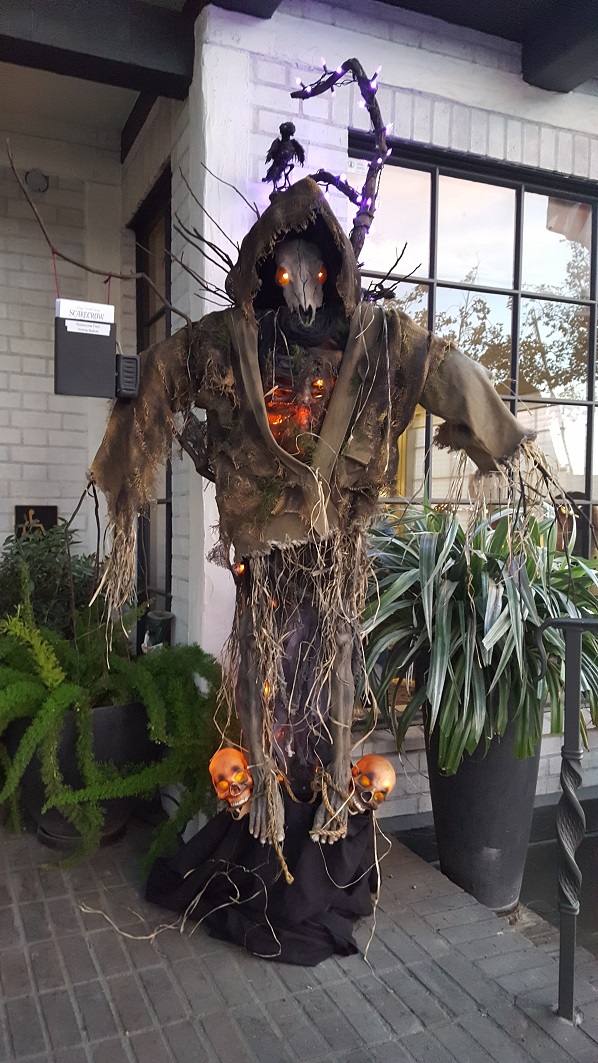 And the Hamlet scarecrow by our motel, with Peter adding emphasis:
Besides having a lot of pastry shops, toy stores and various forms of souvenir shops, Solvang has many wine tasting rooms. Indeed, on our way into Solvang, we saw a winery that offered wine tasting and cookies, so even Scout would have something to enjoy. But they had just closed. But walking around this little town, we were intrigued by a rock and roll wine tasting room.
It is the only guitar museum/eclectic vinyl record store/wine tasting room we'd ever seen, so of course we had to taste the wine.
The wine was nothing special, but the wine host and other guests were — because who else would come in to a musical wine tasting room except for people who love music. We heard about bands that give great concerts, heard personal anecdotes about meeting musicians, and music venues in the area and in LA and elsewhere. Also, did you know there is a vinyl soundtrack to the Jane Fonda workout which you can get there for only $15?
Afterwards, we had dinner at The Little Mermaid restaurant just across the street from our motel. It's time to sleep now. Tomorrow we'll see some more of Solvang and move on to see family further south.