If you haven't heard already, Peter and I sold our house of 21 years on Thistle Drive, and we're heading off right around Neil's 19th birthday to find a new home and new adventures. We lived in the San Francisco Bay Area for almost 30 years, and this place gave us some of our dearest friends, experiences and opportunities of our life so far. I haven't failed to enjoy this beautiful place and take advantage of its opportunities.
With recently adopted Trevor Tiger in my Oakland studio, 1990
Napa Valley Wine Train with Mary and Paul (not shown), 1994
We have frolicked on the beaches; seen the museums large and small; hiked though the mountains; tasted the regional wines; gone to concerts at clubs including the legendary Fillmore and Warfield; watched plays and bands outside in the summertime; gone to all the amusement parks; had fun at corporate parties (including one in the Fairmont penthouse); spoke Russian with the many emigres who are here; played on the playgrounds; explored Golden Gate Park and many San Francisco neighborhoods — and all so much more. Peter and I were here during the Loma Prieta Earthquake, the 1991 Oakland fire, the dot-com era (and boy, were those some great parties), and we're just leaving as San Francisco is bursting at the seams from a pretty regional tourist town into the world city and hub of innovation and technology.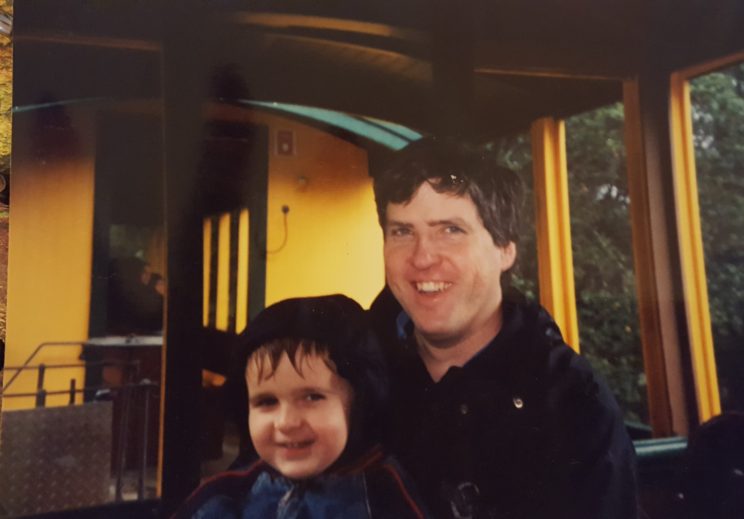 Roaring Camp Railroads, March 2001
Most importantly, this is where I found the love of my life and had my incredible children, and where Peter and I built our careers. Our children, with Silicon Valley as their birthright, flourished by what and who is here, and I got to be their guide and companion on all those tours, and trips  Kelly's coming with us, leaving behind her dearest friends but planning on keeping in touch and looking forward to making new ones.
Kelly and Laralai at the Day of the Dead celebration, San Jose Art Museum, October 2013
With Neil at the end of our Skyline to the Sea hike, Waddell Beach, Pescadero, July 2014
We never expected we would live in the same house for so long, and certainly not for Neil's entire childhood. But it was good to us. I had to admit Neil outgrew his little blue boyhood room with the stars on the ceiling shortly after he went off for college (and probably earlier,) but he'll always be that little kid to me in memory. This is also the first time we have a major family trip without him. He's grown now, enjoying UCLA, and having spent a summer on his own and working in New Zealand. He'll have a room in our new home and we can't wait to welcome him there, but he's also well on his way to independence.
As it is,we have no new address. We're heading in the direction of Nashville, and we'll probably settle down there for a while. We love its friendly people, delicious food, great schools, lack of a state income tax, and off-the-hook music scene — a lot of pop-country of course, but there's also a decent indie scene with bands like Paper Route and Paramore. Like San Jose, they, too have a minor league baseball team and an ice hockey team. They have lakes and fishing. You can still go horseback riding without a helmet. They have a beautiful central park with a Parthenon. Plus their own version of Shakespeare in the Park; wine and art festivals; and fancy malls. We'll probably get a house which will feel gargantuan to me, much as our house on Thistle felt massive as we moved out of a two-bedroom apartment.
So while this is a good-bye, it's also a new hello. As part of this journey, I'm going to send out newsletters about our ongoing adventure, from our road trip that will take us to southern California, then to Las Vegas, and a tour through Texas, and possibly a jaunt up to Pennsylvania after we find a new place to live.
 It's my goal to write up our adventures — what we do on this road trip without a return, discovering a new place, and settling in. This will go out as a newsletter, and not all posts may make it to Daft Musings. If you're on my list, you've already seen this. If you'd like to be, drop me a note.