After putting in our earnest money and taking a drive by the house we'd just bought, we headed to Murfreesboro, a town about 30 minutes away to check in to our Airbnb. The lifestyle here is indeed different from the Bay Area. Franklin, the place of our first and second choice houses, is ridiculously nice. In Bay Area terms, I can only describe it as a little like Los Gatos. It has a definitive center, with a theatre, small upscale shops and restaurants, churches and antique stores, where there are frequent events, such as the upcoming pumpkinfest and a Christmas parade. Their police department is ludicrously overstaffed given that this place has virtually no crime.
On the other hand, we know there are geeks around here, but we're going to have to look for them, whereas in Silicon Valley, geekitude was mainstream. Around here, it seems everyone is an athlete, military, or a musician. And Christianity suffuses everything. Our Airbnb belonged to an air force veteran and a track star, and their to do list includes praying daily. At the mall, there were 3 stores selling gear for sports fans, which included daily devotions matched to your favorite team. I thought it would be affirmations about how your favorite team had to go the extra mile for that touch down, and you can too — but this took it into finding Biblical excerpts to match in. Our realtor's husband was also a pastor at a church and the football player whose house we saw had notes of gratitude and prayer.
The place is overrun with musicians. Also, Taylor Swift owns this town. She is all over the place. She has an education center at the Country Music Hall of Fame named after her; our Airbnb had an autographed picture of her in the bathroom; and she was playing in a loop on a screen at Big Machine Records downtown.
We were so happy to be in a house again, we just hung out and did laundry and watched a DVD on Friday. On Saturday, we checked out the Murfreesboro farmer's market, which I enjoyed. At this time of year, you can get good lettuce, Swiss chard, pumpkins, potatoes, a few tomatoes, local wild honey, and turnips. I found a farmer which sold fresh lamb, though she couldn't get into the Franklin farmer's market, which is so popular it has a waiting list for local farmers. Then we got a school physical for Kelly and had her immunization record transferred to Tennessee.
And then we headed into Nashville. I dearly wanted to see the free day of music at the Schermerhorn Symphony Hall. Looking for parking, it was clear Nashville on a Saturday is packed with tourists and action. And yet we found attended parking only 3 blocks away for $10 for the day. I also had to laugh at how well the Austin Lounge Lizards' "The Car That Hank Died In" captured the tourist scene. There was Tubb's Records; the bars were all packed with beer drinking tourists and live music, including two stories of Tootsie's; and I'm sure I saw people in a car that someone probably died in parked in front of the Goo Goo Candy store.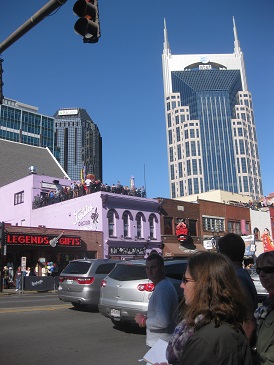 But it was the promise of the symphony that excited me. As it turns out the shows in the symphony hall are eclectic and accessible. There are concerts for the classical wonk, like a performance of Rachmaninoff's Rhapsody and Respighi's Pines of Rome, but even more than is modern and/or intriguing such as Brahms vs. Radiohead. Older American artists, whom we'd consider classic, like the Temptations and Tony Bennett will be performing there, too. One of the volunteers mentioned that he was a ukulele player for the symphony which makes me wonder what arrangement of what symphony calls for ukuleles.
Accordingly, the assortment of free music was varied and diverse. When we arrived a cover band called Tyme was playing a Beatles song in the courtyard. They cover 60s and 70s rock, but we bailed when they got to early BeeGees. Inside, Music City Baroque was setting up in the Lana Turner Concert Hall. We browsed the merchandise, decided to skip the educational Q&A with the conductors, and went into the west courtyard to hear the World Fiddle Ensemble, which deceptively also included a cello and a harp. This quintet played some arrangements of typical folk music, but also took an Arabic tune and vamped it into their own arrangement, and played some rock tunes medlies, offering a sticker to anyone who figured out which songs they were. Peter didn't but it being Nashville, three people in the audience were savvy enough to recognize "Seven Bridges Road" "Paranoid" and "Sweet Dreams (are Made of These)." They were pretty much determined to show you can play anything on a violin (plus cello and harp) and make it sound cool, even if you need to provide the more complicated percussion by hand and foot.
We were also amused by the volunteers' shirts:
After that we went out and braved the crowds on Broadway. I could see why its nickname is "Nashvegas" with its neon lights, endless shows, tourist traffic, and constant boozing. But it was far smaller than Las Vegas. If they had something to sell more lucrative than music and alcohol, I could imagine it filling out with bigger and even glitzier buildings, like The Strip. This was modest, weird, and kind of charming in comparison.
We got away from the crowds by walking a few blocks away, where we found talent agencies and the Country Music Television network. Turning back towards Broadway, to where the horsedrawn carriages waited, Scout found a Jack Kelly horse:
I'm not sure what it was asking for with its upturned hooves. We managed to find a place to eat that didn't have a live band, though it had a bad John Travolta disco painting:
By then, we were ready to go back to Murfreesboro and relax. Once our new house passed inspection, we could get the ball rolling on moving our futniture and setting up services, so Sunday was going to be a big deal.
We started Sunday by having Starbucks and walking around downtown Franklin before we took the 9 minute drive to the house we'd bought. Our
home inspector
rocked a jelly roll style in his hair and drove a 1959 Chevy Apache. Welcome to Nashville! He did not have a second life as a musician, though he said his neighborhood in east Nashville was overrun with Grammy award winners. And that you will never hear a bad or mediocre band anywhere in the Nashville area.
Unfortunately, he found problems right away. We knew the water heater was old, but the heater outside had rust and wasn't long for this world either. The bonus room over the garage wasn't strong enough to hold the comic books, so they'd have to go in the garage and we'd park outside (not too bad in Nashville weather, though.) There were some dead recluse spiders in the garage, and possible termites. Meanwhile, we were also falling in love with the back yard, where Scout fed the goldfish, and I noticed the owners had left behind the tea lights, cleaning supplies and gardening tools we needed. Here she is behind the pond on the natural tree branch swing:
So as I write, we're waiting for the full inspection report and hoping we will find a way to make it work as we're heading up to Pennsylvania for what we'd hoped would be a short stay with the grandparents.