There comes a time when one tires of being on the road. Austin and Dallas were great, but as we pulled out, I also understood the satiric commentary in the Austin Lounge Lizard's "Stupid Texas Song." (You must look it up online — it is hilarious, particularly if you have been in Texas.) We met with Peter's older brother briefly at Ida Claire, and I got the impression even the Texans tired of being the biggest, brightest, and best all the freaking time. Only Californians can manage to be equally obnoxious, which is why we are so wholeheartedly welcome. Who else but a Californian like me would complain to the ambitious winemaker from Amarillo that his pinot tasted like burgundy at the Texas State Fair? And in return, the Texans get amusement making the Californian imports think they are having an LSD flashback — even if we have never taken hallucinogenic drugs.
We were eager to get to Franklin, Tennessee, where we hoped our next house was waiting for us to buy it. To get there, we had to drive through Arkansas. All I know about Arkansas is that I always seem to meet travellers from there. I now understand why Arkansans travel so much — it's because there is nothing worth seeing in Arkansas. We hoped to stop in a Starbucks but there seemed to be none near 1-40 in the dorkily named Arkadelphia or Little Rock and those are the only cities on the route with coffee that is drinkable. We ended up driving straight into Memphis, which was by far the most interesting city between Dallas and Nashville. Before we even crossed the Mississippi, we saw a huge pyramid, kind of like the Lexor, but without the huge searchlight spiking into the sky. Would you believe Memphis' pyramid is not a casino, but rather a sporting goods store?
We stopped in a Starbucks and Peter bought a Memphis mug. I was surprised it did not have an Elvis on it, but it did have the pyramid. I do intend to visit Memphis on a long weekend, because it is Tennessee's nexus of awesome weirdness, from Graceland to the Crystal Shrine to Sun Studio. Also, Memphis has the state's first IKEA, which we also saw on our route.
We made it to Franklin, and when we made it clear we wanted to buy a house asap, our realtor cleared her schedule as much as possible and met us the next day after noon. Before that, I did reconnaissance at a Publix grocery store to determine how much my future life might be limited to fried meat. As it turns out, I may be mistaken on some of the things I expect to miss. Not only did they have a nice selection of California avocados, they had a huge mutant kind next to it, marked as something like the diet avocado from Florida. I don't know what that is, but Nashville just got in my face about fresh fruit variety. They also had an entire wall of hummus selections, as well as pomegranates. I decided this place is alright, culinarily. It does turn out wine is 20 to 30 percent more expensive than it is in California, but I figure they do have to truck it in for 2000 miles, so it is part of the transportation cost.
Our realtor Sue is a lot of fun, but then it seems everyone is the Nashville area is fun, so I hope we will fit right in. She told us Arrington Wineries has concerts and you can order in food. She also thought Texans were obnoxious, particularly since one she'd met had insisted Austin had better country music than Nashville. Music City does not take such an insult lightly, though at some point I shall blog about Western vs. Country, and Austin (and eastern California) are indeed better at Western music, but that is not Country music. Country-Western may be separating more into folk/rock vs. country/pop, but again I am still in consideration of what to say, and I will certainly learn more while I am here.
Franklin is soooo cute as a town. It has a lively center town with almost always something going on every month, if not every weekend. The new library was huge, as was the new police station, which was almost laughably so. If there is a burglary, there are probably a dozen underworked detectives to investigate; on the other hand, if you get stopped for a traffic violation, you will probably get a ticket, and my Emergency Bathroom Pass may not excuse me as it used to in San Jose.
Everything we saw on this first day was in walkable neighborhoods and within biking distance of a grocery store (if not closer.) We are judging neighborhoods on whether neighbors are cool enough to put out Halloween decor, and even the place with the most uptight homeowner's restrictions had decor. The very first house we saw was the prettiest house I have ever seen, including my own very pretty former house in San Jose. This is a poor picture of what it looked like when we walked in: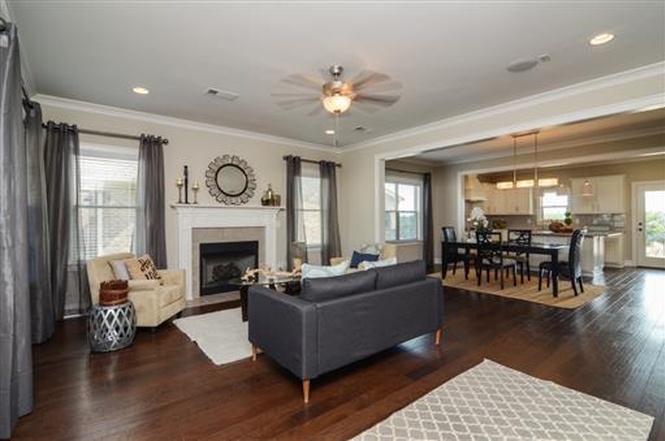 And it had a pretty backyard and deck enough for enjoying the sunset and entertaining: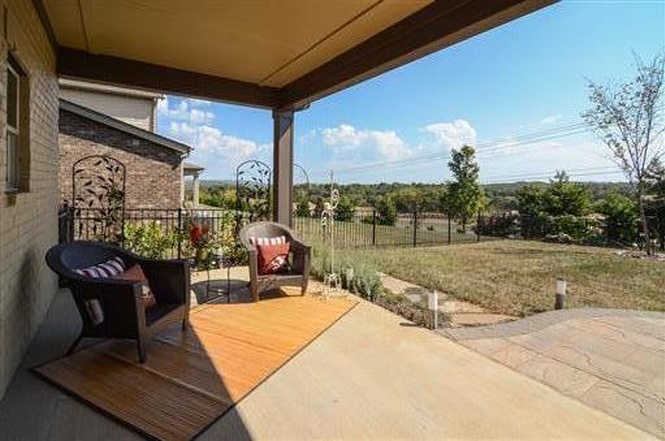 Its bonus room was set up as a media room, so it didn't work for us in that house, but very soon someone is going to love it. Sue was amused as we tried to fit each house into what we needed, and one was a room for comic books (as well as another for a library/learning room) since not all her clients need a comic book room.
We had late lunch/early dinner at a pub which insisted everyone sit outside because the weather was so nice. And it was indeed. Though it was in the 80s, it felt pleasant, so I may also have to retract my weather complaints. Also, we met a delightful Shar Pei dog there. I picked up the Nashville Scene, and read an article from an east Nashville native complaining on how gentrification is making Nashville more boring. Honey, you don't know from gentrification, I thought, but if this is what it is I could really get to like this place.