We've been living in Tennessee for almost a year now. Just this summer, I've gone ziplining through the woods at Fontanel, saw Foster the People at the legendary Ryman Auditorium, ate a chocolate covered cricket at the county fair, done stand up paddleboarding, and, oh, experienced a total eclipse. There's more to tell than I have time to describe — so I'll just cover some of the regional marvels generally.
Visible Air. Being able to see the air is a bad thing to Californians who can still remember when smog hung like a pee-colored cloud in the Los Angeles basin. So we were less than happy when we realized the humidity can get high enough that it looks like a slow moving sheet of rain that dissolves as it touches the ground. We never knew what a dehumidifier was; now we own one.
Here There Be Christians. Within the few blocks that define downtown Franklin, there is a Catholic church, a Presbyterian Church, an Episcopalian Church, and a non-denominational church that advertises on TV. In the three miles I drove back to home from there, I pass at least 4 other churches, and a building supply yard that posts Christian messages. And those are just the churches I know about, because movie theaters function as chapels before noon on Sundays, too. People cite Bible verses as a kind of shorthand like John 3:16 and (at a gym) 1 Corinthians 6:19, and yes, they will ask you if you know Jesus and if you have a church home.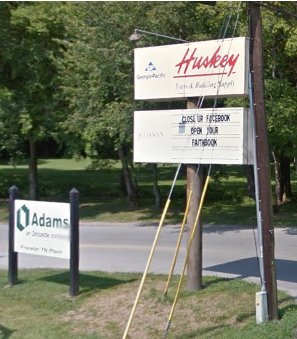 Fringe Rural. Peter was filling out a form at the Nashville Shakespeare festival, and realized he didn't know whether we are rural, urban, or suburban. We live only 30 minutes from Nashville, and I can (nominally) walk to a grocery store. That's suburban. But we also have blueberry patches and school kids who have to arise before dawn to milk the family cows. That's rural. We live close to a major highway, but if you're off it, you can find yourself on narrow unlit roads with deer darting in front of you. I saw the term "fringe rural" come up to describe Scout's school, which is under construction to become 3 stories high, set next a horse farm, and that's probably as applicable as anything .
Welcome to Hobby Lobby, May We Schedule Your Checkout Experience? Every interaction is a chance to be a-visitin' for the indigenous Southerners, with the Hobby Lobby clerks being particularly notorious for this. You may think you are just buying a birdhouse kit, but it is only the cover for checking in on the welfare of the neighbor's dog, finding out which teacher(s) the kids have this year, and opining on what to have for dinner tonight. From one class, I know more about the Pilates instructor at the gym than about some neighbors I lived by for 20 years. In California, "anti-social" meant you were a reclusive, violent psychopath; here people describe themselves as anti-social if they don't always spend at least 20 minutes talking to you.
Vanderbilt is not Stanford. Nerdy culture vulture that I am, I spent a lot of time at Stanford, which had lectures and movies open to the public, two outstanding art museums, and hiking trails. But Vanderbilt (as well as the other local private colleges, Belmont and Lipscomb) was a cipher. So I signed up for one of their psychology lab studies to get to know the school better. There I was expecting a prison experience or Bobo dolls, but what I got was a lot of physicals, a picture of my brain as seen in magnetic resonance imaging, and a dose of amphetamine so carefully controlled all I noticed was the side effect of having a dry mouth. Indeed, Vanderbilt seriously and sincerely followed safety guidelines for subjects probably created in response to Stanford's notorious studies. So, in short, it's kind of boring, unless you really like medical stuff. In any case, this culture vulture now makes do with Toastmaster talks, bumping into music celebrities (oh, hey, how are you, JT?), and the monthly Art Scene crawl.
Different Road Trips. In California, we had a bunch of regular road trips we tended to make, such as driving to Las Vegas for a trade show, to Southern California for amusement parks, and excursions to wine country. Now we're essentially on the other coast, and Las Vegas is far away. Now we get in the car and see relatives we could never drive to see before, such as Peter's parents in Pennsylvania, and his sister in Columbus, Ohio. I've seen my half-brother, Russ, who lives in the Florida peninsula more over the last year than I have over my entire life beforehand. Speaking of which….
The Emerald Coast. Unlike in California, the nearest beaches are seven-plus hours away by car for me now. But as I discovered this summer, while visiting Russ, they are the best, most beautiful beaches I've ever experienced, including Southern California, Hawaii, and Australia. The water was warm, with only the gentlest of waves. I could just float, as small fish floated beneath me, and children chased after a manatee that had swum close to shore. Mindblowingly, the beach bums are not the nouveau riche of San Tropez, or the glitterati of Malibu, but good ol' Southern boys and gals. Russ and his wife took me out to a buffet where I could (and did) eat frog legs, crawdads, and hush puppies. And at my request, they took me to Gator Beach, where people were feeding alligators with meat morsels, and we got to hold an alligator:
We anticipate a lot more fun and adventures. Peter and I signed up for the county volunteer firefighter force — we're just undergoing screening now. We didn't make it to Gatlinburg this summer — that's where Tennessee's amusement parks are. And I have yet to see Memphis, except as we drove through on our way here.