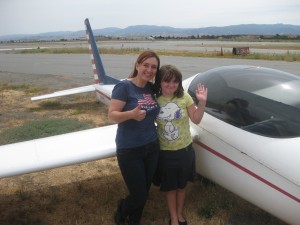 This summer, despite my plans to have one particularly lazy and low-key, I did not one, not two, but three crazy things I've never done before and hadn't even imagined doing.
In June, I volunteered as adult staff for a week a local Girl Scout camp. Kelly's girl scout troop leader, Allison Vickery, had capriciously decided our council needed a local camp so she became a volunteer camp director and rounded up her family and friends to help. All she had to tell me was that Kelly would get to go to camp for free, and I figured, well, I may have no idea what I'm doing, but why not? It did involve a fair amount of training before the camp. In particular, Allison stressed the importance of leaders interacting with the campers, rather than standing by the sidelines. And so it came, that over the course of a week, I learned the silliest songs like "Bill Grogan's Goat" and "Weenie Man" and played the craziest games like "Run and Scream" (just what it sounds like) and "The Tickle Fairy" (also known as "Murder"). My group was a bunch of 9- and 10-year-old girls, and I slid down the slides, swung on the swings, and climbed up the jungle bars with them. It was a bit of a revelation to note that the more mature girls would opt to sit out with the adults when and if we did, which makes me wonder if the reason we don't play so much as adults is because when we were young, we started copying the sedentary adults, rather than revelling in the sheer joy of running around. Also, the real counselors were middle-school-aged girls only slightly older than the campers who took on the leadership roles easily; the adults were there for gravitas and authority, but I was impressed by the young counselors. And the younger girls eagerly absorbed every personal tidbit the counselors could offer; quite a highlight was when the counselor "Superwoman" facetimed herself and her group (showing off a shelter they'd made) to a male school friend named "Taco." Oh, the pleasure of pure girly silliness. The little Goth girl within me died a little.
In July, I hiked 20.5 miles from the Santa Cruz Mountains to the seashore. This was also not in my plans. I'd been taking Neil along on mid-week hikes with a favorite Meetup group of mine, so he naturally gravitated towards completing the Hiking merit badge towards his Eagle Scout ambitions. When one of the leaders in Neil's troop organized a series of hikes towards the badge so that his son as well as any others in the troop could get the badge, I figured it was all taken care of. But very quickly, all the boys except for Neil and Gabriel (the leader's son) dropped out, and since scout activities require a minimum of two adults, it was up to me or my husband to join the hikes — and Peter was busy working on ComicBase 2015. And so, on Saturdays in June, Neil and I and Steve and Gabriel were out taking long hikes through the Bay Area. I'll say the 10-, 11-, 12- mile hikes became progressively easier and we learned how to face the typical hiking hazards of blisters and bugs and dehydration. And we set the date for our "boss battle" hike — one of 20 miles — for July 13, down Skyline-to-the-Sea from Waterman Gap to Waddell Beach, with a leg up on Sunset Trail parallelling Skyline in order to make distance. I prepared for that mentally and materially. My boots were broken in. I made a Gatorade-like drink to make sure I would stay hydrated. I had lots of snacks and sandwiches. We set out at 6 am, and Peter dropped us off on the trail at 7 am, as the redwood trees were still dripping dew. We made it to Big Basin by late morning, and set up to the waterfalls after a long break and refilling our water. We reached the waterfalls by early afternoon, and then wandered down the long fire road and got to the beach by 4:30 pm. Steve's wife was there, waiting for us, and I was ready to pour myself into her minivan, but I'm glad she convinced us to pose in front of the kitesurfers to document our achievement: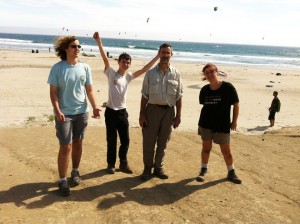 And now, it's August, and for my birthday, Peter bought me a ride in a glider. Kelly joined me because, well, she could, and there was room in the cabin for her. The ride officially began at 6000 feet elevation (1 mile+ up) when I released the tow line from the airplane that pulled up the glider. I had expected it to be far more frightening than it was, but it was more enjoyable than riding in a small airplane. Perhaps it's because I instinctively understand the aeronautics of gliding on air better, or because it was a nice day and we had no countercurrents pushing the aircraft askew. We just drifted towards the ocean (which was regrettably fogged in) and glided down over the lettuce fields of Salinas and Hollister, gently circling around until we were back in sight of the airport. The hardest part, in fact, was getting down, since the heat created updrafts which wanted to keep us up.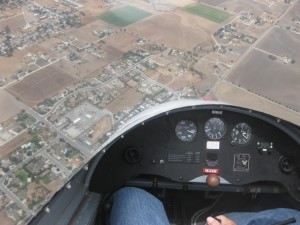 And, yes, in the meantime, I've done other fun things (so far) to round out my summer. I saw Shakespeare's Julius Caesar in Vasona Park and after having gotten context on it via a Teaching Company Course (which I got for only $1 at a Rasputin Records sale), it's now my favorite Shakespeare play. I discovered several new authors I love, Margaret Coel being my most favorite current addiction. I swam in the waves in the ocean, and spent an afternoon speaking Russian with an emigre linguist. And I'm about to start some personal training classes, which I won in a Facebook context. So, so far, it's been a great summer — but most of all, for the fact that I could do some crazy things, and that I did them.