Peter and I were sitting down to breakfast together on Tuesday morning, and he looked at my phone and said "why are your friends and family all asking if you're ok?"
Wondering what happened to me, I checked the news first, and found out that a category 3 tornado had whipped through Nashville around 1 a.m. Here, about 20 miles south in Franklin, our experience of the phenomenon consisted of hail and lightning — although our neighbors across the street paid more attention to the radio alarm and spent the night in their tornado shelter.
I was just exhausted that night, after a day of working on IT policy documentation, followed by 4 hours of education on arson. The education came from a recent Chicago survivor still fresh with wounds from regulatory abuse and tax horrors talking to three ex-Californians who could believe his stories, in a way the locals just quite can't. It seems like every day another set of refugees from California, New Jersey, Illinois, or New York arrives, most swearing to become as one with the Tennesseans we are quickly outnumbering, but possibly too cynical and candid to really fit in.
And Peter had no phone of his own, because it had gotten lost in the leaves (and quite possibly crushed underfoot) during a rope rescue exercise guiding and sometimes hauling a litter up a steep wooded slope.
The tornado did hit and hurt places in Nashville that have a place in our lives. One of our favorite music venues for indie bands, the Basement East, partially collapsed. A meadery across the street where we'd planned to take Peter's sister, Cathy, for her birthday only had minimal damage — which brings up that Cathy moved in with us for about 5 months last year after getting a job here until her Ohio house sold and she found her new home in nearby Brentwood.
A mile east of there, the tornado roared through the Five Points section of East Nashville, and fun and funky place we love, and the location of an annual Tomato Art Festival each August. I was relieved to hear that I Dream of Weenie, a hot dog stand to which we brought my hiking buddies Bob and Sharon when they visited in October, pretty much just had its sign and awning bent.
The cottage that houses the Fairytale Bookstore and Pied Piper Creamery with its shrine to Tom Selleck is still standing, to my relief.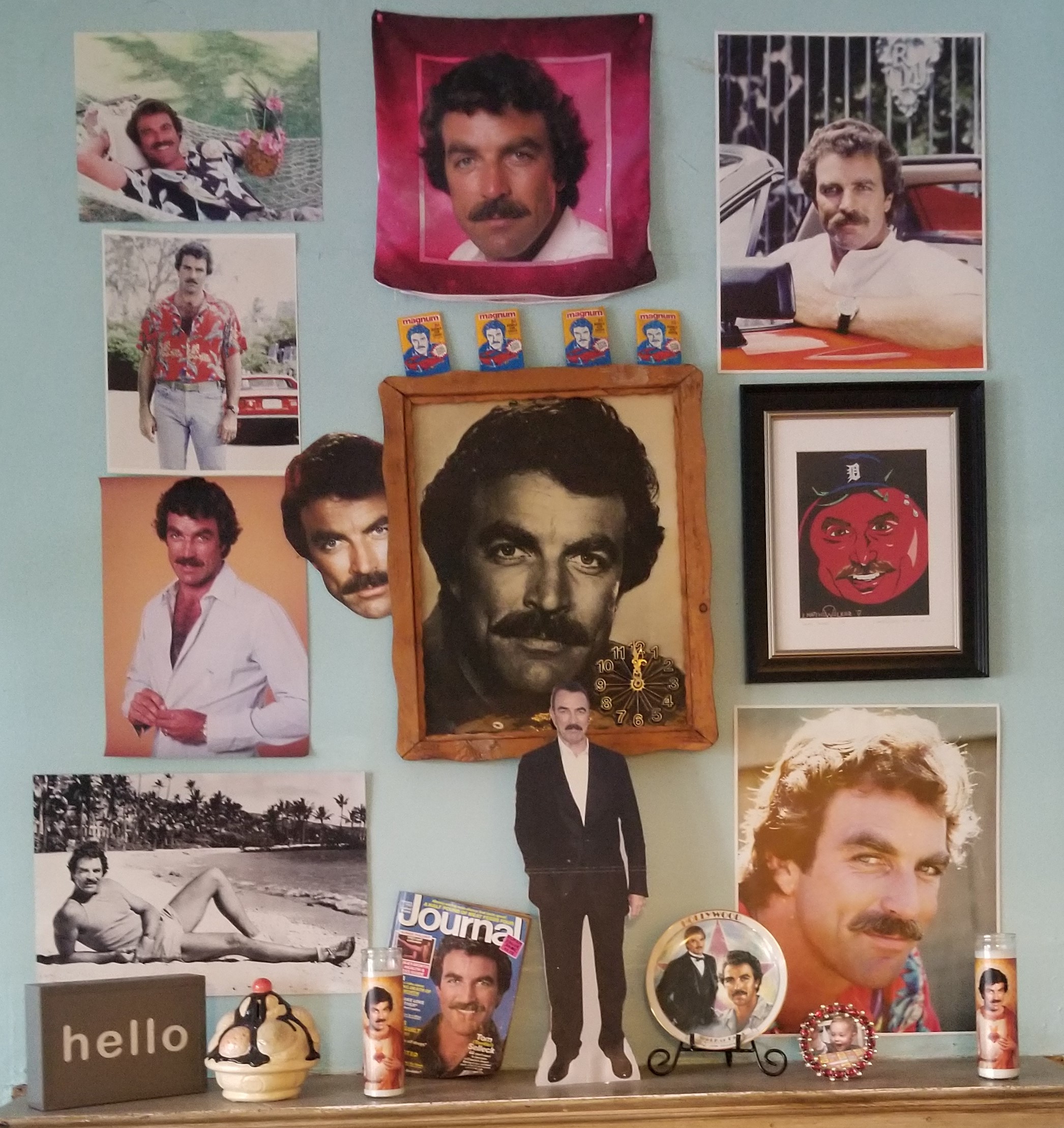 All the businesses there, however, are out of power, and closed until they can clean up and fix the damage. Oh, and the airport that was damaged was not BNA, even though that is on the east side of Nashville, but rather a commuter airport (the kind our country stars use to travel in chartered planes) on the western side.
Thanks to alerts that blast to cell phones and sirens, few people were actually hurt. Late-staying staff at the Basement East were safe in the, er, literal basement of the venue. One of my barre regulars has a son who was living in an apartment from which the tornado tore off the roof, but no one was hurt, albeit he now needs a new place to live.
Far worse off are people in Putnam County, two hours east of here, where Scout and I have gone for the past two years for the 4H archery competition. This tornado repeatedly crossed the Cumberland River which runs through Nashville, picking up speed from each cold air updraft until it was ready to blast down interstate 40 through Lebanon and Mount Juliet toward Putnam County, which is a tornado magnet, situated as it is on a plateau. Today, a self-selected group of firefighter volunteers is out there searching the rubble for the 70+ people who went missing when their homes were destroyed.
Thank you for your calls, texts, and messages. I finally found the "mark yourself safe" feature on Facebook useful.
Thanks also for all those who came to Neil's graduation party at Jake's pizza last year, or who I got a chance to hang out with during our brief trip in June. It was a great pleasure to see you all again and enjoy the Bay Area though seeing it in 2019 it was as if we had been in a time capsule for 3 years while the kids grew up and we all moved on.
We've continued to travel throughout the East Coast. We went to Bronycon in Baltimore in August, and stayed with Peter's parents. With Cathy here to watch out for Kelly, Peter and I had romantic weekend getaways to Miami in September and Las Vegas in November. And on a whim to see a favorite band of Peter's, we spent a fun weekend in Minneapolis in February, which I've detailed in my blog.
Change is inevitable, but we have settled into some regularity in the kinds of things we like to do and the people we hang out with. I'll just end this with both a dog and a pony story.
In April, we acquired a Bernese mountain dog, who is now so large my neighbor called him a "dorse" (dog horse.) Little did we know that his breed comes with its own set of fan clubs. As a result, as part of such a club which had its own float, I ended up pulling him past the eager hands of dog-loving children in the Leiper's Fork Christmas Parade, behind Kid Rock and Loretta Lynn, whom Peter mistook for "Kid Rock's meemaw." Which if you think about it, maybe she is in a kind of way.
It was impossible to get a picture of our dog, buried under children as he was, but here is one of him with us and ghosts the next day at the annual Dickens Fair: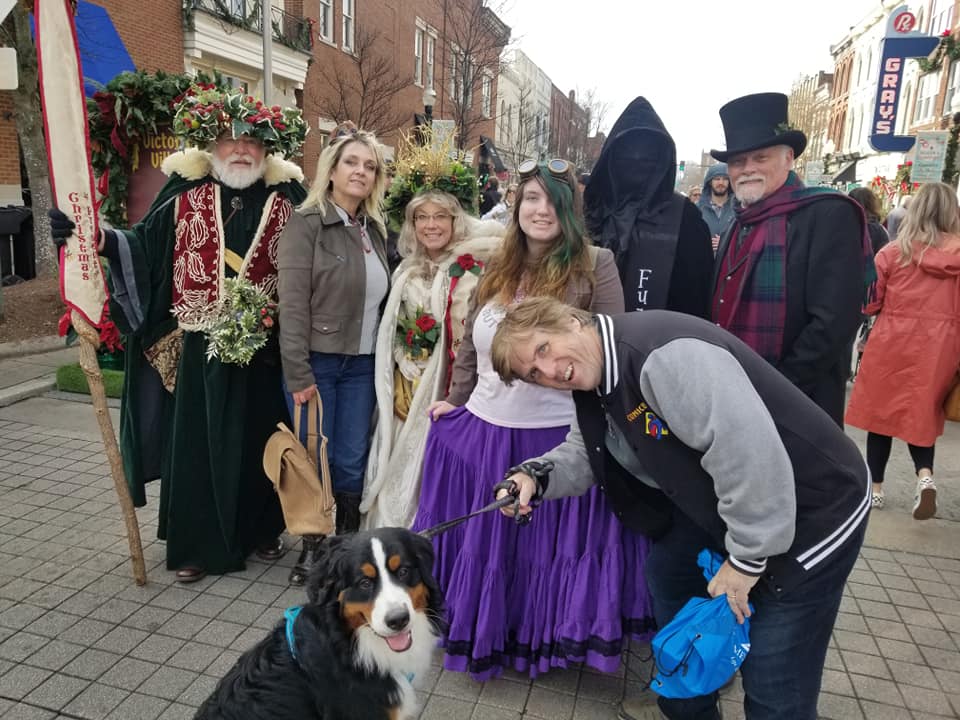 And last month, we finally took our first horseback ride in Tennessee. At the ranches I liked in the Bay Area, I rode like a vaquero, one hand loose and babbling to distract the mustang who would always be saddled with me, lest said mustang have time to get his own opinion which likely disagreed with my own. Here, they still give you western saddles, but the expert riders took the reins in both hands, as if they were riding English style. And the quarterhorse I rode on argued with me not one bit, no matter which way I steered her. As I found out the ranch is a horse sanctuary, the guides are volunteers, and the price of the ride feeds and supports the hundreds of horses they have rescued from families that couldn't afford to keep them or abuse.
Keep in touch, and follow my blog. And if you ever come out to Nashville (we will rebuild, as we have before in other disasters), let me know.