We dallied out of the SLS, but I just realized to my horror that I left my entire make up kit behind. Eventually some phone calls located it and Chris mailed it to Peter's parents. My cousin Tammy had given me 50 cents to bet on the slots, but we couldn't find any slot machines that would take quarters — except for one or two casinos in old Las Vegas, all the slot machines now take cards which you have to fill up with at least $5 of money. So we played two hands of blackjack instead and lost. We are still in search of a lucky slot machine for those quarters.
There is literal deja vu on this part of the trip, as we're retracing our 2014 road trip through the Southwest. We pulled off onto Route 66 at Kingman and found the exact same 1950s styled diner we'd eaten at 2 years ago. We stopped in for lunch, and it was still patronized by motorcyclists, giving me the impression that Route 66 is a popular road trip for biker clubs.
We arrived in Tucson around dinnertime, also staying at the same motel we'd stayed at before. One of my fellow Toastmasters, Rob, had told me I should stop in a place on 4th Avenue to say hi to his brother Ben. Fourth Avenue is exactly the scene we'd thought would make us fall in love with Tucson: unique shops, used bookstores, and eclectic dining and drinking. I will say 4th Avenue is much more interesting after dark. In 2014, all that was open as we browsed were used bookstores and knick knack shops. none of which had air conditioning and made do with fans.
I was intrigued by a window display of katrinas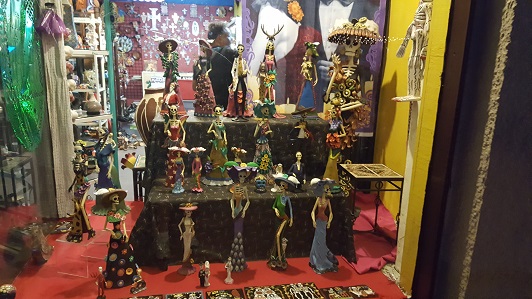 including a Santa Claus and a fairy.
We stepped into the store and found out a large katrina was only $90 and a small one $20, but we knew any we bought would likely break on our journey, and if they didn't it was unlikely we'd have a place to display them before the Day of the Dead.
We found Mr. Head's, where Ben was working at the end of the bar. He was pleasantly surprised, and he was texting with Rob already about a ball game. Unfortunately, Mr. Head's does not serve food, but Ben recommended Bumstead's across the street. Mr. Head's also had what looked like a small glass blowing studio with some of the projects on display. It is the only place I have ever seen a Cthulhu bong.
Bumstead's was perfect. It was largely a sandwich place, but with interesting sandwiches with cool names. Peter had a panini sandwich called Excuse Me?, and I had a delicious meatloaf sandwich called Popcorn Cascade. It was Thursday night, and we were just in time for the trivia contest:
Conveniently, I was wearing my Geek Mom shirt. But we didn't participate: we were tired and had to figure out the next leg of our trip.
There is not a lot between Tucson and San Antonio that's new and interesting to us. Tombstone was fun, but we saw the gunfight already. We saw the White Sands Missile range and it's not like they're going to let us play with the missiles or drive the tanks this time either. We passed by The Thing: it didn't cost much to see it, but it has been seen. I wanted to avoid a night in El Paso, because border towns on a Friday night don't seem like a good idea unless you're into the party yourself.
We looked at a map. I suggested we route up to Roswell, which we'd seen in 2008, but it was a four hour detour. And last time we'd gone through, the electricity in our car had mysteriously failed. Deming and Las Cruces have little of appeal to Bickford tastes. Peter had me look up Odessa. It has a fake Stonehenge! So while it makes for a long drive, and going through 2 time zones in a day, we decided to go there.