We got in to Las Vegas at 1:30 am and checked into the SLS Casino Hotel. Those who have lived in Las Vegas for a while would remember that it on the site of the old Sahara, which is now just a street name and old Vegas history. The SLS is either fashion forward or weird, depending on your point of view. To me, it looked like it had given complete free reign to the designer of one of those fashion magazines that's not really about fashion at all. Think of yourself as a character in the movie Blow Up or a Fellini movie, and you'll fit right in. I mentally noted that the security were all wearing a version of magician Mac King's jacket, and I think Mac King would be surprised to consider his style fashionable.
But the beds were soft and the room was quiet. We collectively passed out and slept in until 10 am. Then we headed over to my friend Chris' house and went out to brunch together. We convinced Chris to join us out on the Strip. To our surprise, we were shocked to find out some casinos, namely former favorites MGM Grand and Caesar's Palace, were now charging for parking! We often used to park there and figure our way of making it up would be to play a few hands of blackjack, or in the case of Caesar's go there to play baccarat and browse the shops. I would guess with the competition from more modern casinos like the Cosmopolitan and Wynn, some places like the MGM Grand are digging desperately for ways to make money. But we found it obnoxious, so they lost our business altogether, and we ended up having our fun at the Rio, Planet Hollywood, and SLS, where we could park without hassle.
Since we were at the far end of the strip, we checked out the pool scene at SLS, which is dominated by a gargantuan rubber duckie. We intended to walk down to the MGM but took pity on the lone taxi driver who needed riders and had him take us to the other end of the strip, where we could buy tickets to the Penn and Teller show that night.
Las Vegas is in the process of creative deconstruction, with new designs constantly taking over the old. I had to pose creatively in front of the very 2016 Dolce and Gabbana building.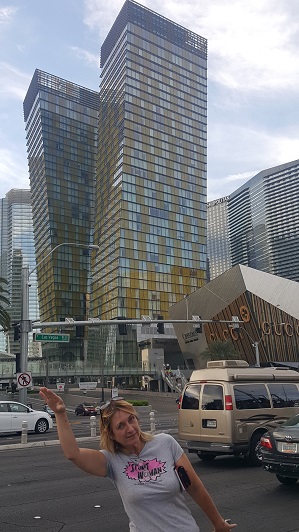 From there, we went to Planet Hollywood for an early dinner at Burgr, Gordon Ramsay's burgers (and more) restaurant which has the best hamburgers, fries and shakes we've ever had. There are so many great dining choices in Las Vegas, but we always have to have a meal there every time we're in town. I tried the farmhouse burger with duck bacon and a friend egg; Chris dared veer from the beef and had a turkey burger, which I tasted and decided was the best turkey burger I'd ever had. I tried recreating the Burgr experience a few years ago, but I'd clearly failed. My shakes were too thick, and we still can't figure out how the burgers at Burgr have a light, almost fluffy texture, even though they have to be a mix of different beef cuts (or in Chris' case, excellently seasoned ground turkey.)
By the time it finished, we had to head back to Peter's car at SLS in order to be able to drop Chris back at home and get turn in our vouchers for tickets at the Penn and Teller show. As it was, we caught a taxi for the last leg out and Peter dropped me and Scout at the Rio before dropping Chris off. Even on a Wednesday in October, Penn and Teller's show was sold out — and seeing it, we could certainly see why.
It was an excellent show. We thought we might see one of the magicians from their show Fool Us open, but we did not. As with other shows, they put a barrel and box out on stage for all to examine, and when the show opened — without the box ever having been moved, Teller popped out of it. We watched them make an audience member's phone disappear, and fool us thinking it was in a bucket. Instead, it moved to the inside of a fish under a chair in the audience. Teller pulled a chafing dish (on fire), fire extinguisher and shovel out of his coat, and then the magicians made a showgirl holding a bazooka appear inside their airport metal detector. They pulled a rabbit out of hat, and cut a snake into pieces, noting that act had gotten NBC the most complaints it had ever gotten when they did it on Saturday Night Live — but Teller apparently dying on stage the next week received no complaints. They amazed us all by having us take 4 different cards we'd all picked before the show, having us tear them in half, reshuffle, reorder, trade and throw away pieces seemingly at random — and in the end, we all had matching pieces. And then they made an "elephant" disappear. It was entertaining and snarky and lively, and memorable.
With another late night, we returned to the SLS for some more sleep before we ventured on to the next leg of our journey.